Venison Medallions with Caramelized Black Grapes & Bitter Endive
Makes 2-48 Servings
WINE PAIRING
Amarone or Valpolicella
Flavorful tender venison Denver leg medallions paired with bitter braised endive & tart-sweet caramelized vinegared grapes.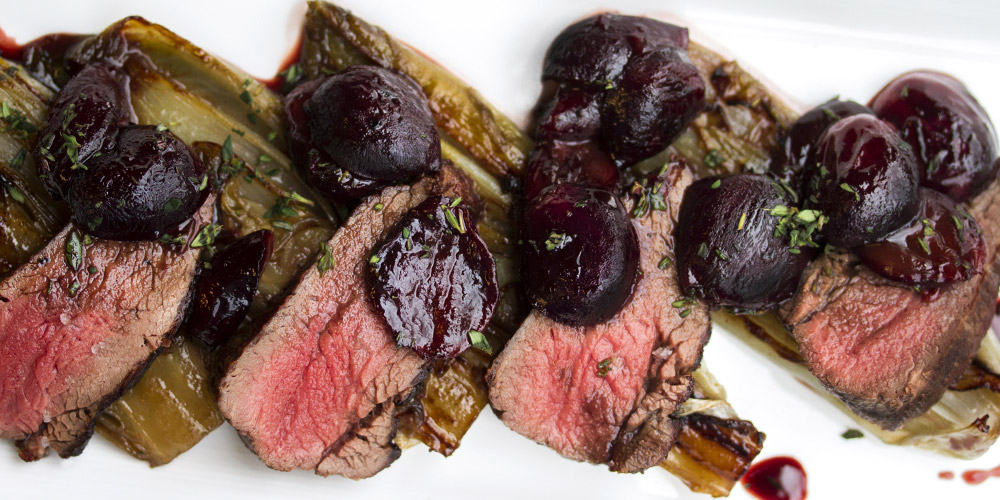 INGREDIENTS
Chopped Thyme

Finishing Salt
Roasted Endives

6 Endives, cut in half

1 tbsp Butter

1 tsp Salt

1 cup Chicken Stock

1 tbsp Balsamic Vinegar
Grapes

1 tbsp High Heat Oil (safflower, grapeseed or canola)

3 cups Halved Black Grapes

¼ cup Balsamic Vinegar

1/2 tsp Salt

1 tsp Chopped Thyme
DIRECTIONS
1
Preheat your oven to 400°F.
2
Put the endives in a large, oven-safe skillet, cut-side down. Add the butter, salt, chicken stock and balsamic vinegar to the skillet, cover it, then move it to the oven to roast for 30 minutes.
3
After 30 minutes remove the cover from the skillet and continue to roast for an additional 30 minutes, until the liquid has evaporated and the endive has browned.
4
Season the venison with salt & pepper, then sear it on all sides in an oiled, oven-safe frying pan.
5
Move the pan to the oven and roast until the venison reaches an internal temp of 125-230°F (rare-medium rare).
6
Remove the venison from the pan to a clean plate to rest, loosely covered, for 10-15 minutes.
7
Combine the high heat oil and the grapes in a large cast iron skillet. Cook the grapes over medium-high heat until they've caramelized.
8
Once they've caramelized, add the balsamic and the salt, simmering until the balsamic has reached a syrupy consistency.
10
Slice the venison against the grain. Serve it with the endives and grapes, finished with a little salt and chopped thyme.