Morrocan Egg, Tomato & Meatball Tagine
This simple, home-style braised dish is deliciously savory, with creamy, rich eggs, hearty spiced meatballs, and warming harissa with just the barest hint of kick. We used a traditional clay tagine to make it, but you could substitute a pot in a pinch.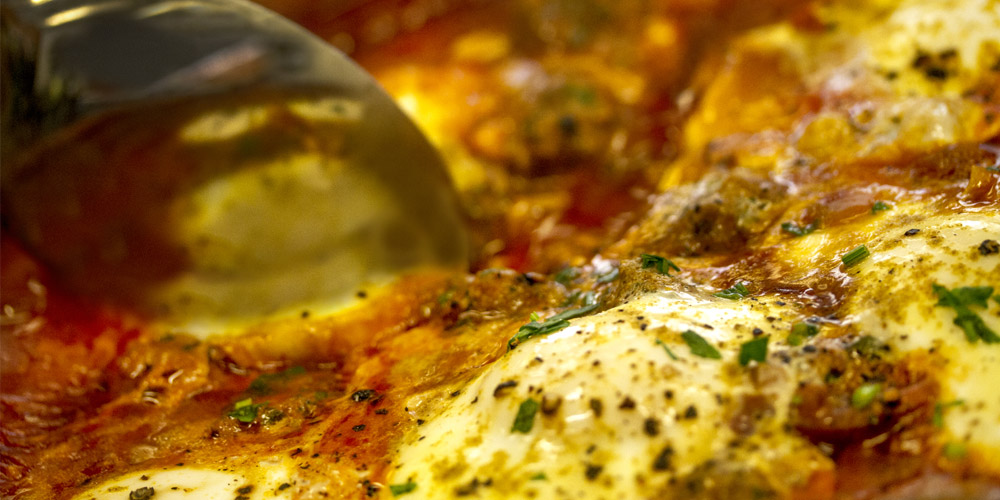 INGREDIENTS
Tagine Base

1 Red Onion, minced

2 Small Tomatoes, peeled & sliced

1 bunch Fresh Parsley Leaves, minced

1 tbsp Tomato Paste, mixed with ½ cup water

1 tbsp Black Pepper

½ tsp Ground Cumin

1 clove Garlic, crushed or minced

1 tbsp Villa Jerada Harissa

¾ tsp Salt

1 tsp Sweet Paprika

2 large tbsp Extra Virgin Olive Oil
Kofta Meatballs
1lb Ground Beef

1 tsp Ground Cumin

1 tsp Sweet Paprika

2 tbsp Fresh Parsley Leaves, minced

1 tbsp Fresh Cilantro, minced

1 tsp Salt (or to taste)

6 Eggs
DIRECTIONS
1
Put the tomatoes, red onion, tomato paste, black pepper, garlic, cumin, harissa, salt, parsley paprika & olive oil in the tagine.
2
Mix together all the kofta ingredients and roll the meat into 1 tbsp balls.
3
Put the tagine/pot on the stove top. Cover it with the lid and bring the heat up slowly until the liquid simmers.
4
When the liquid is simmering, nestle the kofta on top of it. Scoop some of the liquid on top of them to lightly cover. Add additional water if the pan is starting to look dry. Return the lid to the tagine/pot.
5
Simmer, adding additional water as necessary, until the kofta are cooked.
6
Remove the lid. Crack in the eggs and season with additional salt & pepper.
7
Remove the tagine from the heat, and cover it with the lid. Let the eggs cook.
8
Serve with bread or rice.