DUNGENESS CRAB WITH CLAMS AND MUSSELS IN FORTIFIED BROTH
Makes 4 Servings
WINE PAIRING
Muscadet or Clare Valley (Australia) Riesling
Comforting and full of flavor, fish fumet fortified with shellfish is the perfect way to steam/simmer crab, mussels, and clams for this shellfish feast. All the shellfish you sacrificed to bolster the broth really pay off here, as they ramp up the overall seafood flavor in the final presentation.
DIRECTIONS
1
Clean the crabs & crack them down the middle (See
How to Clean Dungeness Crabs
).

2
Sauté the shallots in oil in a deep pot or Dutch oven.
3
When they're fragrant, add white wine, clams, and mussels.

4
Cook the alcohol off, add the crab and the fish fumet, cover and simmer until the clams and mussels open. Check frequently and remove individual mussels and clams as they open so they don't overcook.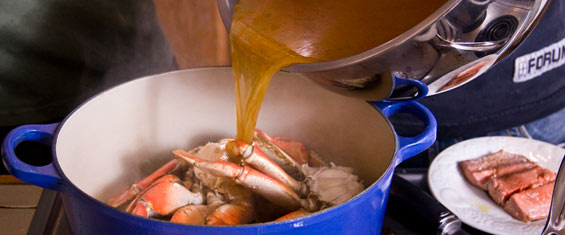 5
Put a layer of clams and mussels in the bottom of a large bowl (for family style) or individual soup bowls. Top with the crab (1/2 crab each).
6
Pour the hot broth over the top. Garnish with the fresh parsley, a drizzle of olive oil and lemon halves so guests can add lemon juice as desired.