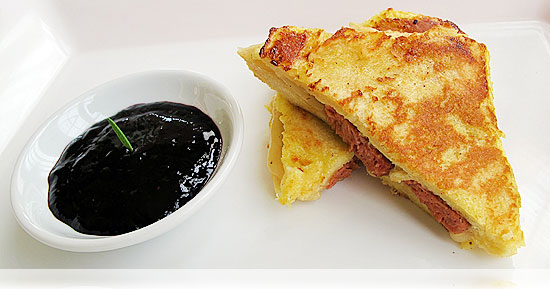 Monte Cristo Sandwich with Smoked Duck Sausage
The Monte Cristo sandwich is essentially an American version of Croque Monsieur. This sandwich typically includes cheese, turkey or ham, placed in between two slices of bread. The sandwich is then, like French toast, dipped in egg-milk batter and fried.
This version is unique as instead of typical turkey or ham, the Monte Cristo sandwich is made with smoked duck sausage. A quick and easy to make homemade blackberry jam is a terrific accompaniment to this sandwich.
Ingredients (for 2 sandwiches)
Blackberry Jam
1/3 cup Water
1/4 cup Agave Syrup
1 pint Blackberries
1 tablespoon Lemon Juice
1 tablespoon Vanilla Extract
Monte Cristo sandwich
2 Smoked Duck Duck Sausage w/ Apple Brandy
4 thick slices of Challah Bread
2 slices of Gruyere Cheese
1/3 cup Milk
2 Eggs
Pinch of Salt
Pinch of Nutmeg
Butter for frying
Directions:
Blackberry Jam
1. In a saucepan, combine water, agave syrup, blackberries, lemon juice, and vanilla. Bring to boil and then simmer until the liquid reduces and starts to thicken.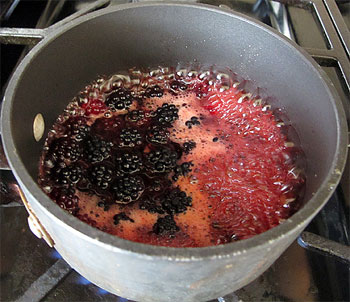 2. Blend in a food processor, and strain the seeds out, making a smooth jam.  Serve warm or at room temperature (this recipe makes only a small portion, about 1/3 cup, enough for 2 sandwiches).
Monte Cristo Sandwich
1. Trim the ends of the sausages, then slice each sausage in half cross-wise. Trim to make the halves flat. Melt 1-2 tablespoons of butter in a skillet. Brown the sausage slices quickly, just about 30 seconds on each side. Remove the casing.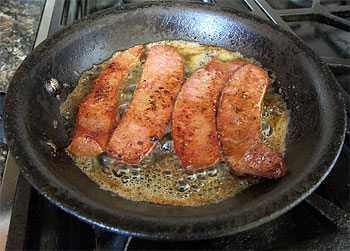 2. Place 1 slice of cheese and two sausage slices on one slice of bread and top with another, pressing down tight. Cut the crusts off on all sides. Repeat with remaining bread, cheese and sausage.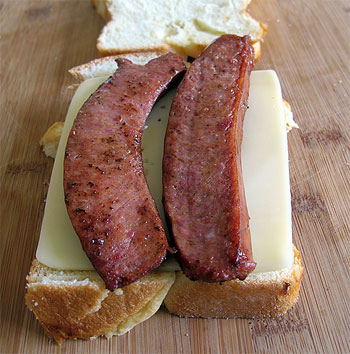 3. In a bowl, whisk milk, eggs, salt and nutmeg together.
4. Melt 2-3 tablespoons of butter in a griddle or a skillet. Dip the sandwiches in the milk-egg mixture and fry until golden on each side.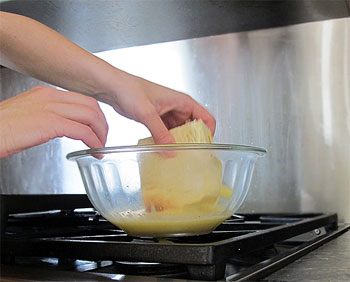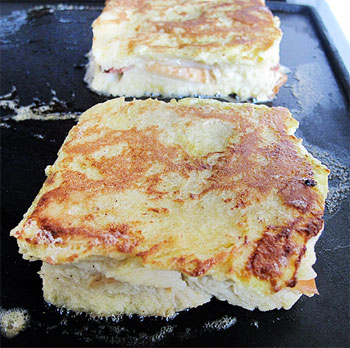 5. Cut the sandwiches in half diagonally. Serve with blackberry jam on a side.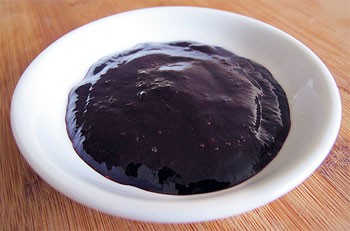 Recipe Development & Photography by Natasha Price, 5 Star Foodie
___________
Browse More:
Sausage Recipes
Duck Recipes