Grilled Peach & Duck Salad
Makes 4 entrée-sized salads or 8 appetizer salads
WINE PAIRING
Washington Riesling or Viognier from Washington or California
Peppery, sweet, nutty, and rich, try this elegant salad the next time you're throwing a dinner party or making a meal for that special somebody.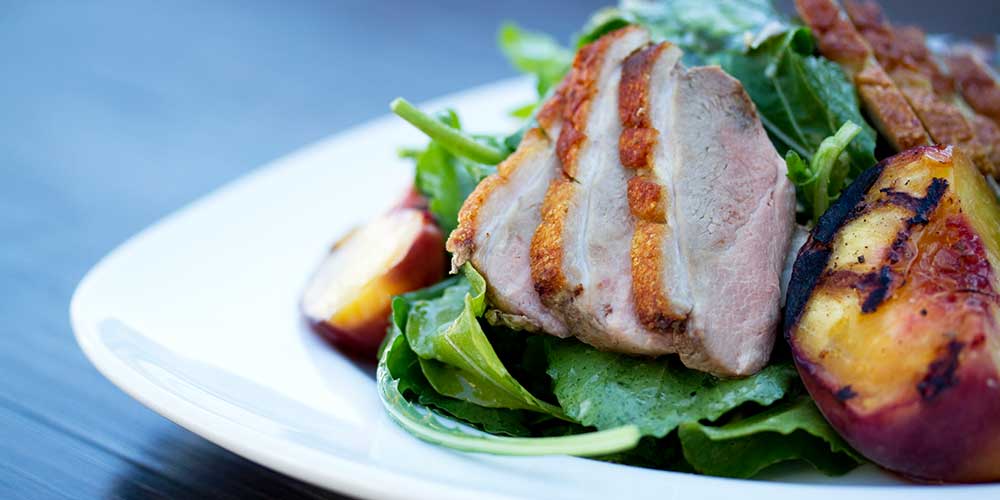 INGREDIENTS
2 Peaches

4 large handfuls of Arugula

4 tbsp Marcona Almonds

4 tsp Grana Cheese, grated

¼ cup Rice Wine Vinegar

1 small Shallot, finely diced

1 pinch Salt

1 pinch Pepper

1 tsp Mustard

Juice of Half a Lemon

Zest of a Quarter of a Lemon

¼ cup Olive Oil

¼ cup Canola Oil
DIRECTIONS
1
Render the fat from the duck breasts.
(
how to render duck breasts
).
2
Halve and destone the peaches. Lightly season their insides with olive oil, salt, and a touch of pepper.
3
Put the peaches on a hot grill, cut side down, and briefly grill until they develop strong grill marks. Flip and brown the other side. Remove from the grill and reserve.
7
Toss the arugala with the vinaigrette, grana, and almonds. Pile it on plates or a serving platter and arrange the duck slices and peach wedges around it. Serve.