Duck Breasts w/ Cherry Red Wine Onion Sauce
Makes 4 Servings
WINE PAIRING
Oregon Pinot Noir
Succulent duck in a buttery, tart, sweet onion wine sauce over grilled zucchini & green beans. This dish is a real crowd pleaser.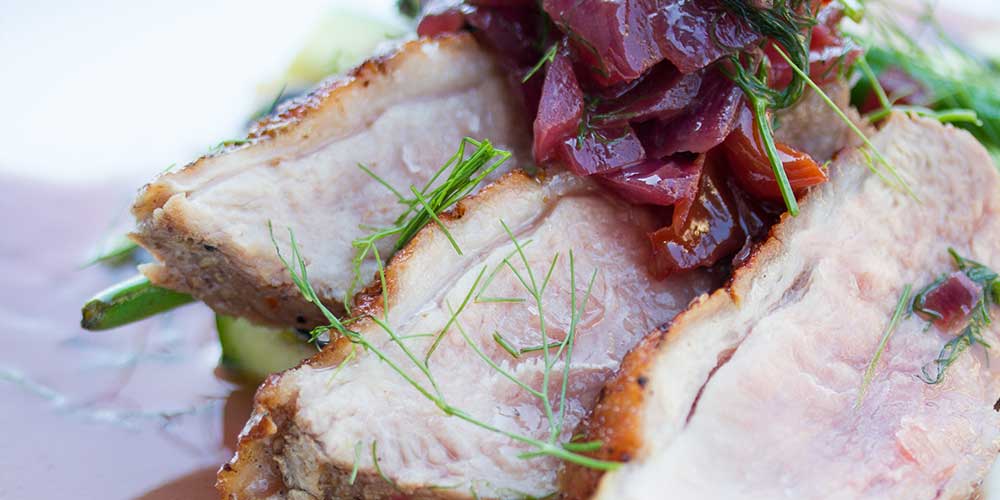 INGREDIENTS
2 Large Zucchini, cut into planks

1/4lb Green Beans

1 tbsp Duck Fat or High Heat Oil

High Heat Oil
Spice Rub:

1 tsp Brown Sugar

1 tsp Ground Coriander

1/2 tsp Salt

1/2 tsp Ground Pepper

1 Juniper Berry, ground
Onion, Cherry & Wine Sauce:

1 Red Onion, diced

2 tbsp Duck Fat or High Heat Oil

2 tbsp Shagbark Syrup

¼ cup Tart Cherry & White Tea Preserves

1 Cup Pinot Noir Wine

6 tbsp Unsalted Butter, cut into 1 tbsp pieces

¼ cup Chopped Fennel Fronds

Salt to Taste
DIRECTIONS
1
Stir together all the spice rub ingredients.
2
Get a cast iron skillet with the two tablespoons of duck fat/oil in it hot over medium high heat. Add the red onion.
3
Toss the zucchini & green beans with oil, salt & pepper. Get a grill pan (or a grill) hot and grill them to your desired level of doneness.
4
Once the onions have cooked for about 15 minutes, add the pinot noir wine and shagbark syrup. Reduce the heat to low and simmer until the liquid has reduced by two-thirds.
5
Once the liquid in the onion mixture has reduced, add the tart cherry & white tea preserves.
6
Score the duck breasts in a wide crosshatch pattern with a knife, cutting through the skin and fat, but not into the meat.
7
Heat a skillet with 1 tbsp oil or duck fat. Sprinkle the spice rub on both sides of the duck breasts. Render the fat from the duck breasts (
how to render fat from duck breasts
).
Drain off the excess duck fat that collects in the pan and reserve for other
duck fat recipes
.
8
Once the fat has rendered out of the duck breasts, flip them and continue to cook, basting with the duck fat left in the pan.
9
When the duck breasts are cooked, remove them to a plate and cover them loosely with foil. Let them rest for 5-10 minutes.
10
Over low to no heat (just the residual heat in the pan) stir the butter into the onion sauce, one tablespoon at a time, until integrated. Add any juices that have collected on the duck resting plate.
11
Taste the sauce for seasoning, add salt as necessary. Stir in the chopped fennel frond.
12
Slice the duck. Serve it atop the grilled vegetables, topped with the cherry onion wine sauce.