Crostini w/ Manchego, Guava and Salami "Croutons"
Makes 4 Servings
WINE PAIRING
Oregon Pinot Gris
A crispy blend of sweet, savory, porky & cheesy goodness that evokes a much classier version of Hawaiian pizza.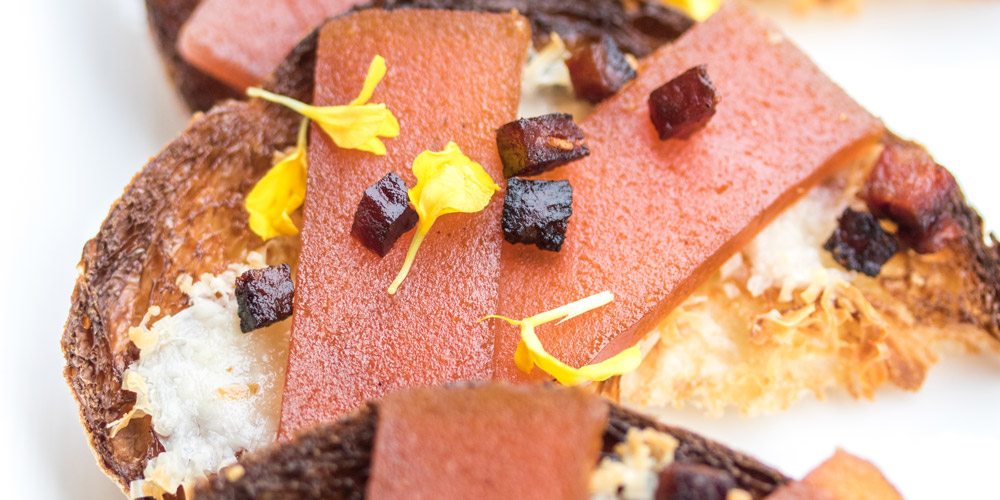 INGREDIENTS
Sourdough Bread, thinly sliced into 16 half rounds

Olive Oil

2 1/2oz Manchego Cheese

1 block Guava Paste, very thinly sliced

3 tbsp Sopressata Salami, very finely cubed (brunoise)

Fine Extra Virgin Olive Oil

High Heat Oil
Optional Garnish: Micro Marigold Petals
DIRECTIONS
1
Brush the sourdough slices with olive oil on one side. Spread them out on a baking sheet and broil them until lightly crisped and browned. Remove them from the oven.
2
Put 1 tbsp of finely grated manchego cheese on each crostini.
3
Put the cubed sopresatta in a frying pan with a ½ tbsp. of oil. Slowly render it until it crisps up.
4
Lightly broil the crostini, just long enough to melt the cheese.
5
Top each crostini with some of the sopressata cubes, guava slices, and (if desired) marigold petals. Drizzle with the olive oil. Serve.