Cricket & Scallop Potstickers
Makes 6 Appetizer or 4 Light Entrée Servings
Want to try adding crickets to your diet without feeling like you're eating crickets? Here's a tasty way: mixed in to potstickers! Ground crickets add extra protein, nutrients, crunch and earthiness to the scallop filling. Enjoy!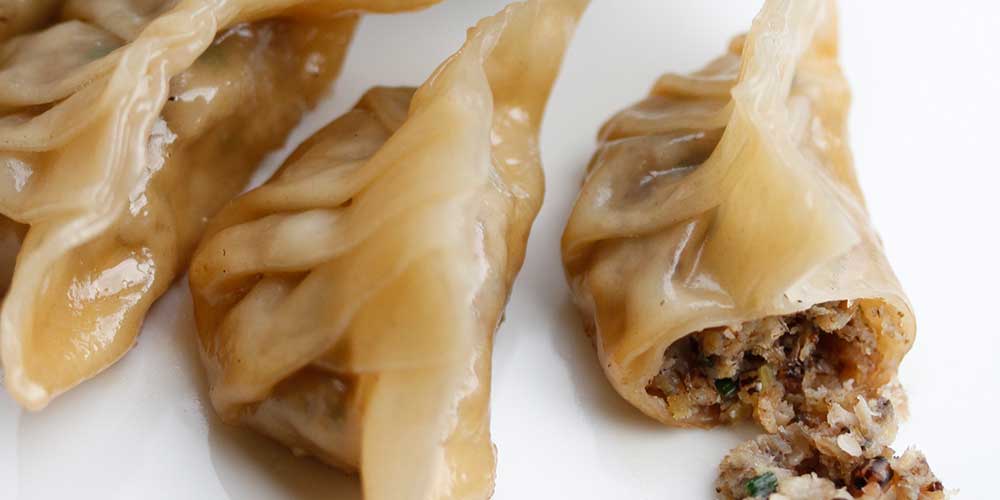 INGREDIENTS
Filling:
1/4lb Shucked Bay Scallops

1 scant cup Crickets

2 tsp Minced Ginger

1 tsp Minced Garlic

1 tsp Soy Sauce

1 Tbsp Heavy Cream

1-1/2 Tbsp Minced Chives
Dipping Sauce:

2 Tbsp Soy Sauce

2 Tbsp Rice Wine Vinegar

1 Tbsp Thin-Sliced Scallions

1 tsp Sesame Oil
Round Wonton Wrappers

2 tsp Cornstarch

1-2 cups Water, Stock or Broth
DIRECTIONS
1
Drain the scallops in small strainer or spread out on a dry paper towel.
2
Put the crickets into food processor and pulse 4-6 times to break them into smaller pieces (but don't overblend; you don't want a powder).
3
Add the scallops, ginger, garlic and soy to the food processor, and pulse just enough to combine all the ingredients.
4
Add the filling mixture to a small bowl and add the cream and chives. Stir to incorporate.
5
Let the filling rest in the fridge, covered, for 10-25 minutes.
6
While the filling is resting, make the dipping sauce. Mix the soy sauce, rice wine vinegar, scallions, and sesame oil in a small bowl.
7
Mix the cornstarch with a little water to create a slurry.
8
Put a tsp of filling in the center of a wonton wrapper. Dip your finger in the slurry and run it along the edge of the wrapper.
9
Crimp the wrapper closed around the filling (see video for technique).
10
Put 2 tablespoons of oil into a cast iron pan, get it quite hot, and carefully place the potstickers in one layer. Let them sear until they're golden brown on the bottom.
11
With a lid ready in your left hand (so you can wield it in the manner of a gladiator's shield), carefully pour the 1-2 cups of stock, broth, or water into the pan. It will spatter, so use care!
You want the liquid to submerge the bottom 2/3rds of the potstickers. As soon as you reach this depth, stop pouring and immediately pop the lid on.
12
Ideally you'll find the potstickers will steam all the way through to perfect doneness at the exact moment the liquid has evaporated. (Yes, we believe in unicorns, too).
Peek under the lid over the next 6-8 minutes – you're looking for the moment when the "fin" atop each dumpling (that gorgeously-pinched double layer) is tender throughout.
Assuming you don't hit the mythical steaming liquid/doneness sweet spot, either add a bit more liquid if it's evaporated too rapidly, or pluck the dumplings from the pan with some liquid still remaining.
13
Serve the potstickers with the dipping sauce.