Croutons make a simple salad more satisfying, and the addition of protein in the form of crickets adds a nutty crunch and helps this feel like a meal. These are quick to whip up at home, and taste much better than store-bought ones.
A day-old baguette would work the best here, but we used plain old white bread and they were still great.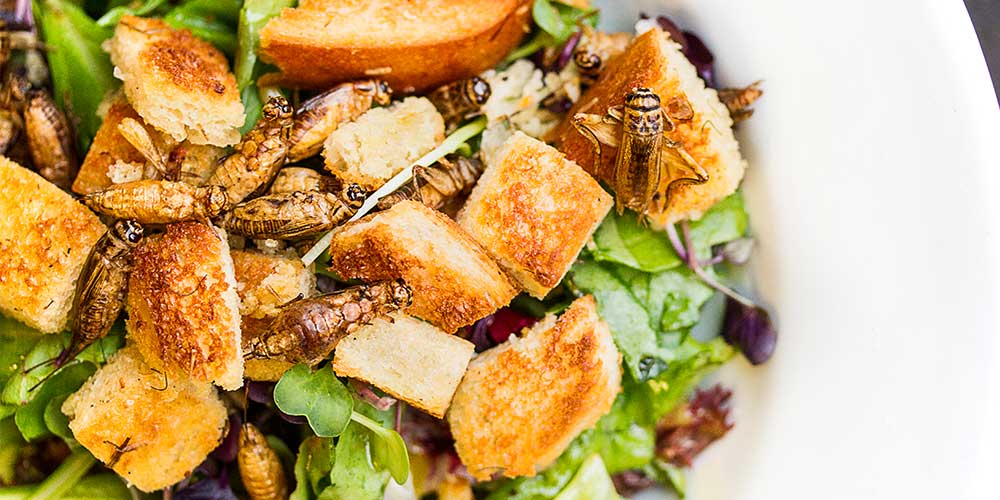 INGREDIENTS
2 cups Cubed Bread

1/4 cup Crickets

3 tbsp butter

1 tsp garlic, minced

A pinch of salt
DIRECTIONS
1
Preheat your oven to 350° F.
2
Cube up your bread and place it into a bowl large enough to give it a good toss. Add the crickets and set aside.
3
Start melting the butter over medium heat in a small saucepan, adding the minced garlic about a minute in. Saute until the garlic is translucent, but not yet browned.
4
Pour the butter & garlic mixture over the cubed bread and crickets. Coat them evenly by tossing the whole mix around with a spatula or spoon. Season with a pinch of salt, and turn it all out onto a baking sheet.
5
Bake the coutons for 10 minutes before checking them. Give the baking sheet a shake to shift the crickets, and flip any croutons that are browned.
6
Continue to bake, checking every 4-5 minutes, and pull them out when they've evenly browned. Serve scattered on top of any salad.