Bacon Corn Cakes with Sorghum Syrup & Tomato Chile Butter
DRINK PAIRING
Bloody Mary
Sweet & savory with just a touch of heat, this Southern-inspired breakfast/brunch dish is sure to impress!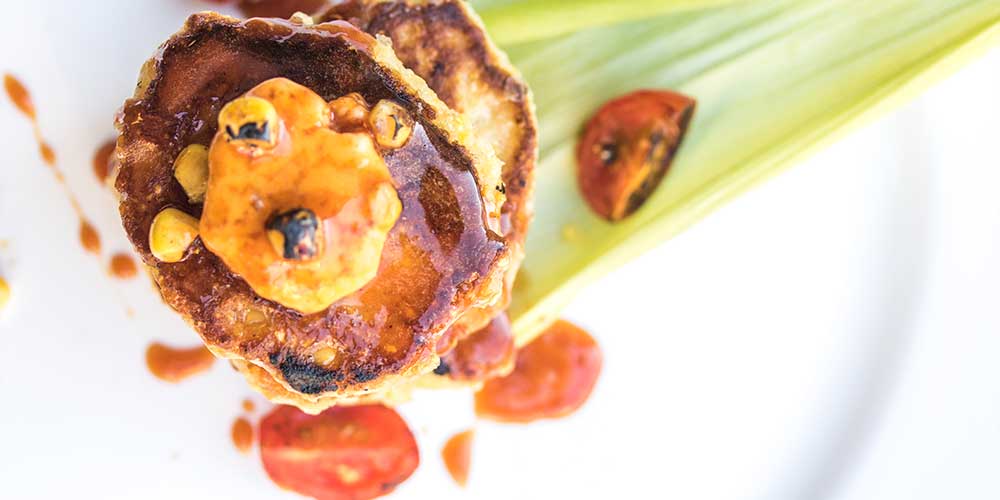 INGREDIENTS
1/2 cup Sorghum Syrup (can substitute maple syrup)

2 tsp Honey Wine Vinegar

2 Cherry Tomatoes
Batter:

¾ cups All Purpose Flour

1 ear of Corn

½ cup Corn Meal

2 ½ tsp Baking Powder

1 tbsp Granulated Sugar

¾ tsp Salt

¾ cup Milk

1 Egg

2oz Bacon, very small diced

3 tbsp melted Unsalted Butter
DIRECTIONS
1
In one bowl combine the all-purpose flour, corn meal, baking powder, sugar & salt.  In a different bowl beat together the milk and egg.
2
Cut the corn off the cob, put all of it except a quarter cup in the egg & milk mixture.  Reserve the remaining corn for charring later.  Scrape the ear with a spoon to get all the remaining corn milk/essence into the egg & milk mixture.  Add the melted butter.
3
Render the minced bacon in a frying pan until crispy.
4
Mix the dry ingredients into the wet ingredients to create a batter.  Add both the crisped bacon and the bacon fat from the pan.
5
Halve the cherry tomatoes.  Add them to a very hot oiled skillet, cut side down, along with the reserved corn. Cook until well charred, turning the tomatoes as necessary.  Remove the tomatoes & corn from the skillet.
6
Add additional oil to the pan and cook small corn cakes from the batter, flipping when the bottoms are browned.
7
Warm the sorghum syrup and honey wine vinegar in a small saucepan on the stove, until the mixture thins out.
8
Create small towers of corn cakes topped with the chile-tomato butter.  Garnish with the charred corn & tomatoes, then drizzle with the syrup.