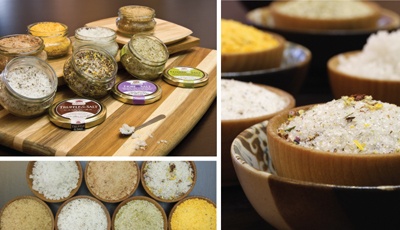 We just added Ritrovo's Fine Finishing Salts Collection to our web store and are really excited about these exceptional artisanal salt blends. In fact, we've been looking forward to this collection since we twisted open each of the seven jars and were struck by the intensity of their aromas.
Ritrovo's collection equips the home chef with the ability to completely amplify or modify the flavor profile of ANY dish from baked goods (hello sweet salt!) to grilled fish. There is no other salt product on the market that compares to Ritrovo's quality. We're proud to be the only webstore to offer their entire collection.
That's why we offered our visitors a flight of seven Ritrovo finishing salts. Click here to see who won.
The salt collection includes:
Truffle & Salt: A blend of dried Italian black truffle and sea salt, this flavor combination will enhance any dish with the aroma and flavor of Italian truffles including popcorn, mashed potatoes, pasta dishes, scrambled eggs and roasted meats.
Fiori & Salt: An aromatic blend of Italian sea salt and flowers including chamomile, poppy, mallow, marigold, lime, hawthorn, yarrow, wild orange peel, flower pollen, heather and lavender. This combination is a wonderful way to infuse olive oils, sprinkle over fresh mozzarella, finish cream soups and risotto or bake into breads.
Fennel &Salt: A combination of sea salt, fennel seed and orange peel this blend pairs well with sweet and savory dishes including wild salmon, goat cheese, chocolate truffles or caramel.
Sweet & Salt: A sweet and savory blend of Italian sea salt, dried & ground fruit, sweet spices, vanilla, chocolate and grape must, this combination pairs well with both aromatic and dessert dishes. Sweet & salt can be used as a rub for duck or pork, sprinkled on roasted squash, pumpkin soup, or buttery shortbread cookies.
Saffron & Salt: Red strands of saffron are blended with sea salt resulting in a flavor profile that is perfect for finishing paella, cioppino, pasta or fresh ricotta.
Sea & Salt: A combination of high-quality Sicilian bottarga, citrus, sun-dried tomato, and cardamom, this blend is ideal with pasta, steamed vegetables or used to cure seafood and enhance salad dressings.
Limited Edition Cervia Salt: From Cervia salt pans, this Italian moist fleur de sel is the crème de la crème of sea salts. With a light texture and rich flavor this salt can be used to finish meat, poultry and fruit dishes as well as sweets including white chocolate chip cookies and caramel chocolate combinations.
Also check out the Ritrovo Fruit Vinegar Collection and Balsamic Vinegar Collection that are also new to MarxFoods.com. The fruit vinegars stand apart because they are not infused; rather the ingredients are made into fine fruit wine and then turned into vinegar. This collection includes Fig vinegar, Cherry vinegar, Currant vinegar, Apple balsamic vinegar and Pinto Grigio vinegar. The Balsamic Collection includes 6-year aged balsamic, 6-year aged spicy balsamic and apple balsamic.