Makes 4 Servings
WINE PAIRING
Sake or a lighter Japanese Beer (Sapporo, for example)
Cold soba noodles are enjoyed year round in Japan (though many people switch to hot soba in soup during the winter). They're light and refreshing. Traditionally cold soba is served on a plate with a small cup of dipping sauce (as you see here). Diners simply dip a portion of the soba in the sauce, then lift the noodles from the bowl and eat them.
Because it's spring and morels are amazing, we've taken the liberty of integrating them into this dish. The results may not be authentic, but they are undeniably tasty.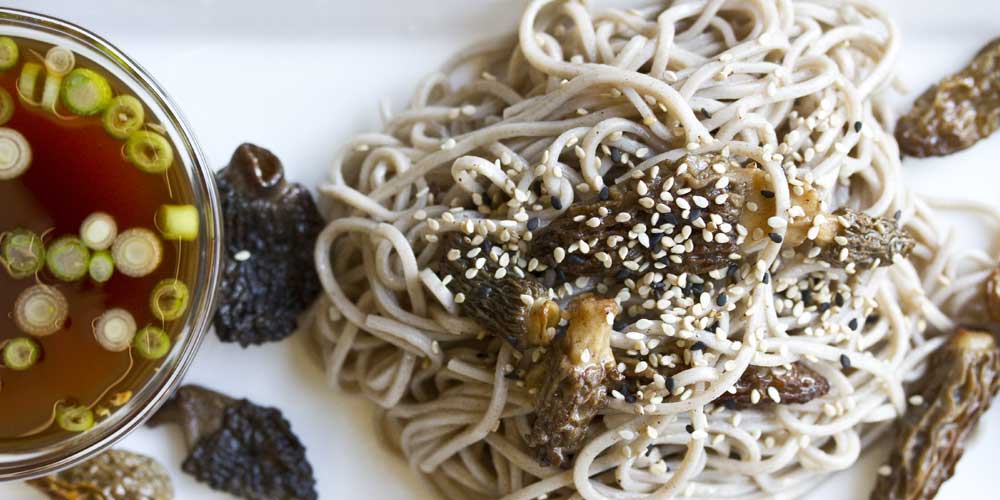 INGREDIENTS
16oz Dried Soba Noodles

4 cups Fresh Morel Mushrooms

1 tsp Fresh Ginger, grated

2 tsp Sesame Oil

4 large sheets Kombu Kelp>

1oz Dried Bonito Flakes

2 tbsp Tamari Soy Sauce

2 Green Onions, sliced

Unsalted Butter & Oil (to cook morels)

Sesame Seeds for garnish
DIRECTIONS
1
Bring a pot of water to a boil.
2
Saute the morels in butter (Butter Sautéed Morels Recipe).
3
Add the soba to the water and stir immediately. Cook until tender, stirring occasionally. Drain the soba and run cold water over it to stop the cooking process.
4
Combine 8 cups of cold water and the kombu in a large pot. Bring to a simmer.
5
Once the water has reached the simmer, add the bonito flakes & stir. Turn of the heat and let the flakes steep for about five minutes.
6
Strain out the bonito and kombu.
7
In a bowl combine the tamari soy sauce, 1 cup of the dashi broth, 1 tsp of salt, the ginger, and the green onions.
8
Toss the cold soba noodles with salt, sesame oil, and the morels.
9
Plate the noodles next to a small dish holding some of the sauce, garnish with extra cooked morels and some sesame seeds. Serve.