Colatura Roasted Green Beans with Hazelnuts
Blanched, then broiled, these green beans get extra umami from colatura, a special Italian fish sauce that's much less intense than the Southeast Asian varieties.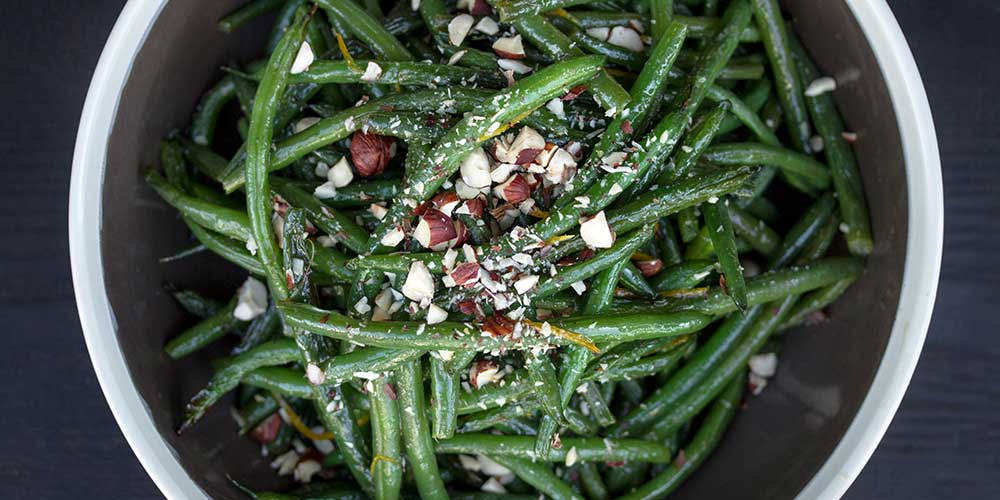 INGREDIENTS
2lbs Green Beans

Juice of ½ Orange

Two 4" strips of Orange Zest

2 tbsp Colatura Fish Sauce

Black Pepper

¾ cup toasted, chopped Hazelnuts

¼ cup Olive Oil
DIRECTIONS
1
Trim one end off each green bean.  Cut the orange zest into very thin strips (julienne).
2
Blanch the green beans in boiling water for one minute, then
shock
them in an ice water bath.
3
Preheat your oven's broiler.
4
Remove the green beans from the ice water.  Toss them with the orange juice, orange zest, colatura, olive oil and black pepper to taste.
5
Spread the beans out on a baking sheet in a single layer.
6
Broil the green beans on the top rack of the oven until they blister and turn brown in spots (about five minutes)
7
Taste the beans and add additional salt or pepper as needed.  Serve sprinkled with the hazelnuts.