Nori-Wrapped Ling Cod with Kinpira Gobo
Makes 6 Servings
WINE PAIRING
Alsace Pinot Blanc
Kinpira Gobo is a classic Japanese side dish made from finely cut slivers of burdock root (gobo) and carrot cooked with sesame, soy, and often seaweed. Here we've omitted the seaweed in the kinpira gobo in favor of roasting the ling cod wrapped in bundles of nori seaweed. The soft, fluffy cod pairs beautifully with the nutty, earthy, savory & satisfyingly chewy side.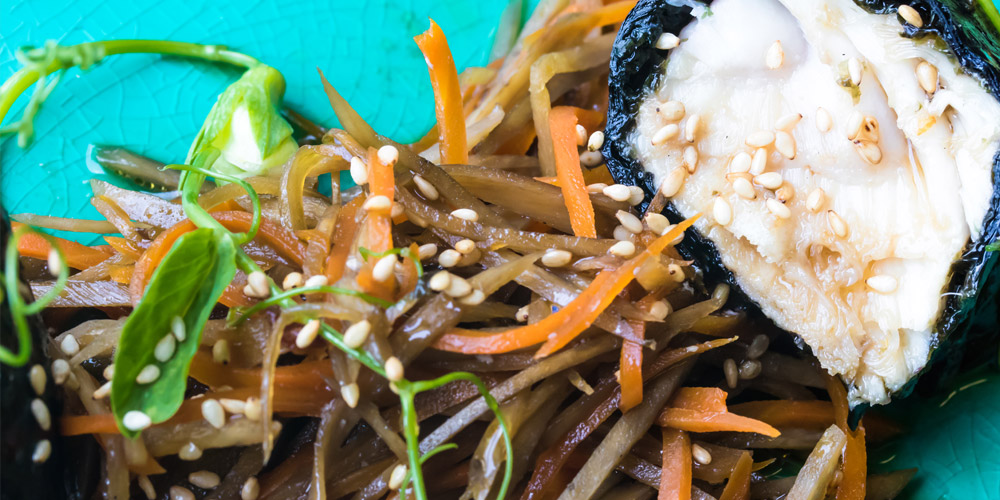 INGREDIENTS
Cod

2lbs Ling Cod

4 large sheets of Nori

1 tsp Toasted Sesame Oil, plus extra for finishing plates

Toasted Sesame Seeds
Kinpara Gobo

1 large Burdock Root

1 large Carrot

1 tbsp + 2 tsp Toasted Sesame Oil

1 tsp Red Chile Flakes (we used diced japones chilies)

1 cup Dashi Stock (how to make dashi)

2 tbsp + 1 tsp Tamari Soy Sauce

2 tbsp Sake (not seasoned "cooking sake")

1 tbsp Granulated Sugar

2 tbsp Mirin

1 tsp Toasted Sesame Seeds
DIRECTIONS
1
Preheat your oven to 350 degrees.
2
Peel the burdock root & slice it into thin, needle-like strips (julienne). Do the same with the carrot.
3
Cut the center bone-in portion (1/2" to each side of the spine) out of the middle of the ling cod so you're left with two filets. This spine portion can be roasted & picked off the bone as a snack.
4
Cut the filets into 4oz portions (you'll hopefully get six).
5
Place each portion on a sheet of nori. Drizzle each with 1/2tsp of fish sauce.
6
Wrap the nori sides over the fish, then roll the fish over the extending tail of nori to form nice bundles.
7
Put the bundles in an oven-safe frying pan or small baking dish. Drizzle a teaspoon of sesame oil over them.
8
Move the fish (in the pan/dish) to the oven & roast until the internal temperature of the fish reaches 125°F.
1
Oil a large saute pan with the tablespoon of sesame oil. Add the burdock slivers and cook them over medium-high heat, stirring, for 4 minutes.
2
Add the carrot and the chile flakes, then continue to cook for an additional two minutes before adding two tablespoons of the tamari along with sake, sugar and mirin.
3
Continue to cook, stirring occasionally, until all the liquid is absorbed/evaporated. Stir in the remaining 2 tsp of sesame seed oil, the remaining tamari, and the toasted sesame seeds.
4
When the fish has cooked, remove it from the oven and nestle the bundles into the kinpira gobo.
5
Simmer the kinpira gobo over medium-low heat until the fish reaches 135°F, flipping the fish pieces as necessary.
6
Serve the fish bundles on top of some of the kinpira gobo, sprinkled with sesame seeds & drizzled with some of the remaining broth and additional sesame seed oil.