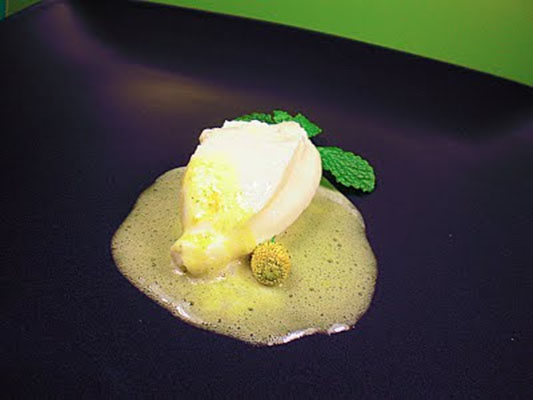 Coconut Ice Cream with Mint and Szechuan Button Foam
Christo from ChezWhat is at it again with his third Szechuan button recipe…
Has your mouth needed a treat lately? All the hustle and bustle of the holidays but you've been able to hold your tongue? Well now it's time to treat those deserving tastebuds to flavors and sensations that will make you sing.
Coconut ice cream with Szechuan button and mint foam. If it sounds too good to be true, wait until you taste it. The creamy coldness of the coconut ice cream along with the familiar friendliness of mint is the perfect diving board for the zing of the buttons.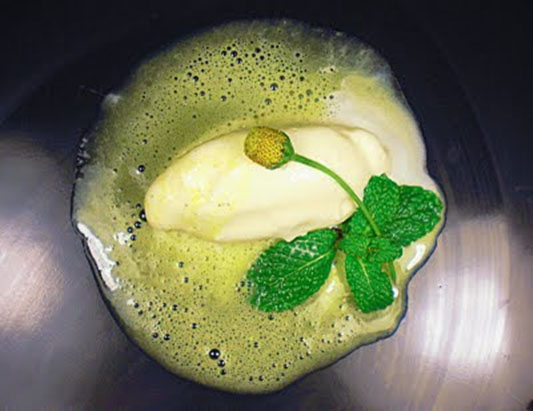 One bite and your mouth won't know what hit it but one thing is certain, it will want more! I can barely begin to describe what this is like, it's flavor, it's sensation, its cold, it seems hot, it does everything but dance.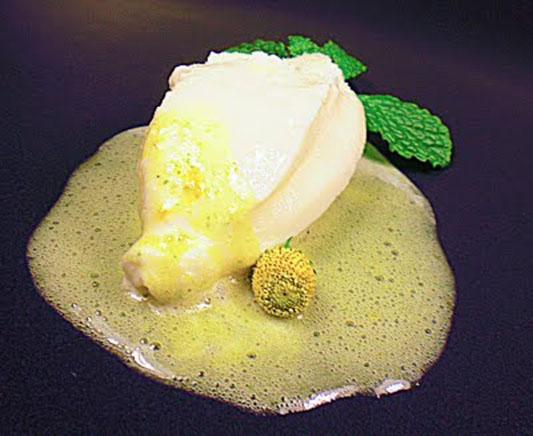 Ingredients:
1 cup double (heavy) cream
1/2 cup milk
1/2 cup coconut flakes (packed down)
8oz (200g) can of sweetened coconut cream
Take the milk and coconut cream and blend in a food processor. When smooth, carefully stir in the cream and coconut flakes.
Transfer the complete mixture into an ice cream maker and follow the manufacturer's instructions. For soft-serve ice cream serve immediately, for later use or harder ice cream, transfer to a covered container in your freezer. When ice cream is set, ready the plates and make foam.
Foam:
1 tsp of lecithin
4 -5 mint leaves
1 szechuan button
3 tbs water
dash of sugar

Combine foam ingredients and whip into a foam using an immersion blender.
Make a quenelle out of the ice cream and place on a plate. Spoon foam over ice cream and garnish with some sprigs of mint and another button, if you like – and if this seems like too small a portion just get a regular ice cream scoop and pile it on, foam and all – your mouth will love you for it!

___________
Browse More:
Ice Cream & Sorbet Recipes
Dessert Recipes
Szechuan Button Recipes
Fresh Herb Recipes