Jasmine & Coconut Creme Caramel with Passion Fruit Sauce & Crystalized Ginger
Makes 6½ Cup Crème Caramels
WINE PAIRING
Riesling Auslese
Smooth, creamy, decadent, this milk/cream free crème caramel uses coconut milk. This recipe was a staff favorite for its subtle coconut/jasmine flavor and punchy passion fruit sauce.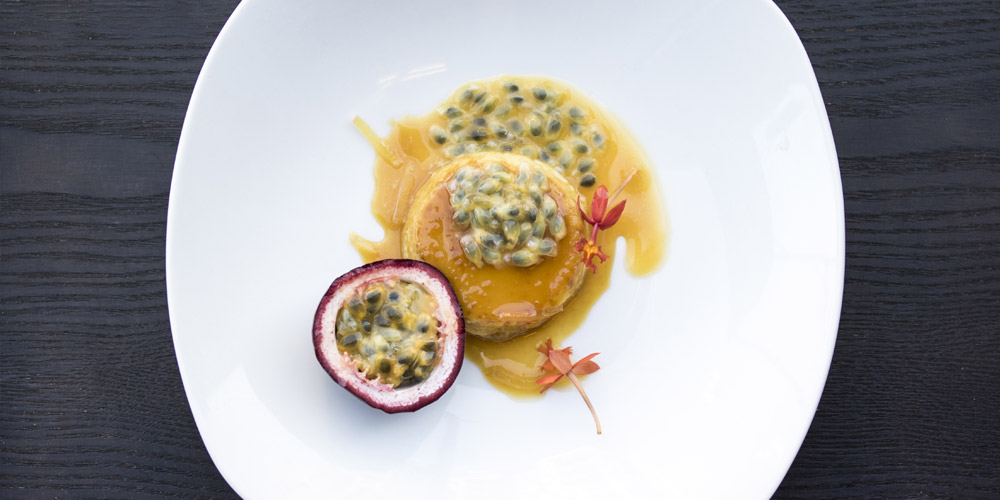 INGREDIENTS
Custard

2 cups Coconut Milk

1 tbsp Jasmine Pearl Tea

8 Egg Yolks

½ cup Sugar
Caramel

1 cup Sugar

¼ tsp Salt
Sauce

¼ tsp Honey, or to Taste
Garnishes

Candied Ginger, thinly sliced
DIRECTIONS
1
Preheat your oven to 300°F
2
Combine the coconut milk and jasmine tea in a saucepan. Bring the coconut milk to a boil on the stove, then remove the pan from the heat.
3
Cover the pot and infuse the coconut mixture for 15 minutes, then strain out the tea.
4
While the milk mixture is infusing, make the caramel. Put the cup of sugar in a dry pan with the salt and cook, stirring, until the sugar melts and browns. Pour the caramel into your ramekins in a thin layer.
5
Mix the sugar and the egg yolks together for the custard base.
6
Temper
the hot strained coconut milk into the egg mixture. Strain the custard base.
7
Place the ramekins in a baking dish and pour hot water between them.
8
Pour the custard base over the caramel. Cover the sheet pan with foil and move it to the middle of the oven to bake.
9
Bake the ramekins in the oven until the centers are just barely set. Check them after 40 minutes (if you're substituting smaller ramekins, they will cook more quickly. Check after 20 minutes).
10
Remove the baking dish from the oven and the ramekins from the water. Chill the custard thoroughly in the fridge.
11
Halve the passion fruit and scoop the pulp out (with the seeds). Mix it with the honey.
12
Once the custard has chilled, run a knife around the inside of each ramekin, than upend one onto each plate.
13
Wait until the custards release from the ramekin, then lift the ramekins off the plates.
14
Top each custard with some of the passion fruit sauce.
15
Garnish with the candied ginger & micro orchids.