Chocolate & Cocoa Nib Cookies
DRINK PAIRING
Milk with Freshly Grated Nutmeg
Even though this recipe makes a large number of cookies, they vanished almost instantaneously during the photo shoot where the recipe was developed – the staff couldn't stop eating them!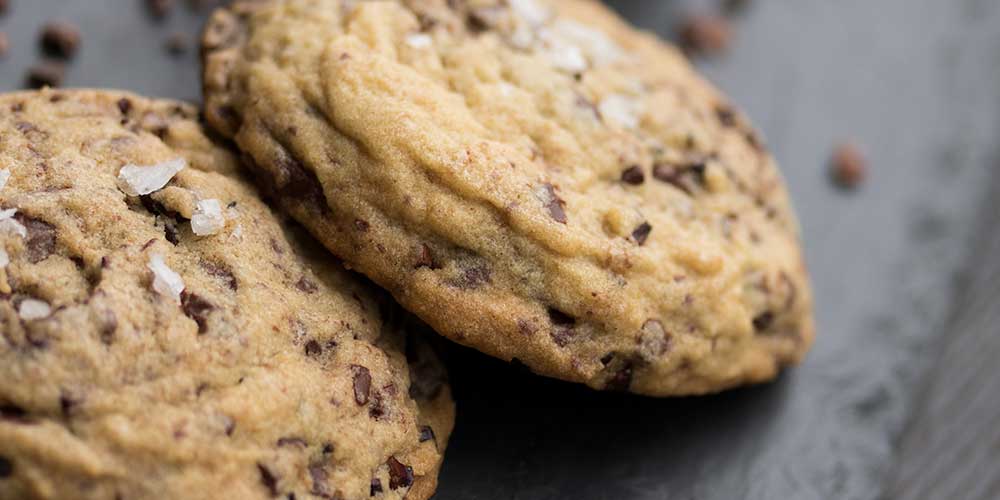 INGREDIENTS
2 ½ sticks Unsalted Butter

¼ cup Granulated Sugar

½ cup Granulated Piloncillo (could substitute brown sugar)

1 1/3 cup (packed) Dark Brown Sugar

2 large Eggs

2 ½ tsp Vanilla Extract

1 cup + 2 tbsp Bread Flour

2 cups All Purpose Flour

1 tsp Baking Soda

1 ½ tsp Kosher Salt

14oz 60% Bittersweet Chocolate, coarsely chopped (or chips)

4oz Cocoa Nibs
Topping:

Flake Sea Salt (we used Jacobsen's Sea Salt)
DIRECTIONS
1
Preheat your oven to 350 degrees.
2
Cream the butter and 3 sugars in a stand mixer.
3
Add the eggs, vanilla, baking soda & salt.
4
Working in batches (so the mixer doesn't kick clouds of flour into the air), mix in the flours, just until well incorporated.
5
Mix in the chocolate and cocoa nibs.
6
Use a disher (or two spoons) to make cookies on a baking sheet. Sprinkle each cookie with a small amount of flake sea salt. Move the sheet to the oven to bake.
7
Check the cookies after 12 minutes (they'll probably take 15 minutes to bake) – remove them from the oven when they're browned around the edges, but blonde on top.
8
Move the cookies to cooling racks & let them cool (if you can wait that long).
9
Repeat with more batches until all the cookies are baked.