Spanish Cockles with Roasted Tomatoes & Parsley Oil Tapas
Cockles are tiny, tender, clam-like shellfish that are perfectly suited to Spanish tapas. Here they're paired with fresh parsley oil and roma tomatoes that have been very slow roasted until their sugars and flavor are concentrated.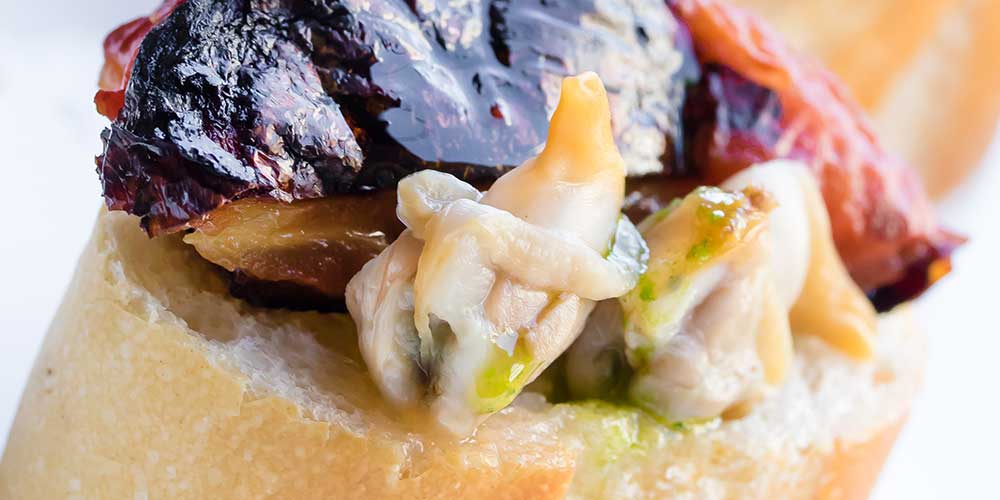 INGREDIENTS
6 Roma Tomatoes

Twelve thin slices of Baguette

1 Tin Cockles in Brine, Drained

Fine Extra Virgin Olive Oil (we used First Day Arbequina EVOO)
Parsley Oil:
Leaves of ½ bunch Flat Leaf Parsley

½ cup Extra Virgin Olive Oil (grocery store grade is ok)
DIRECTIONS
1
Preheat your oven to 425°F.
2
Use a flame grill or a culinary torch to char the tomatoes on all sides until the skin is completely blackened.
3
Put the tomatoes on a silicon baking mat on the cookie sheet & move them to the oven to roast until most of the water has been cooked out (about 45 minutes).
Periodically open the oven door to let steam escape during cooking. You want to get the tomatoes as dry as possible. Use tongs to turn the tomatoes after about 30 minutes.
4
Combine the parsley leaves in a blender with the ½ cup extra virgin olive oil. Blend to a uniform consistency & color.
Strain the oil without pressing on the solids. Just let it drip through a fine mesh strainer at its own pace.
5
Once the tomatoes have cooked, remove them from the oven & put in the baguette slices to toast.
6
Let the tomatoes cool enough to handle, then remove as much of the peel as possible from each one. Cut them in half.
7
Put half of a tomato on each baguette round. Lean two cockles up against each tomato half.
8
Drizzle with the parsley oil & and the finishing extra virgin olive oil.