Christmas Lima Bean Succotash
Succotash is a simple yet satisfying vegetable side dish made of corn, onion and beans. Here we've added fresh sage, tomato, and used christmas lima beans to give it more visual, textural and flavor pizazz.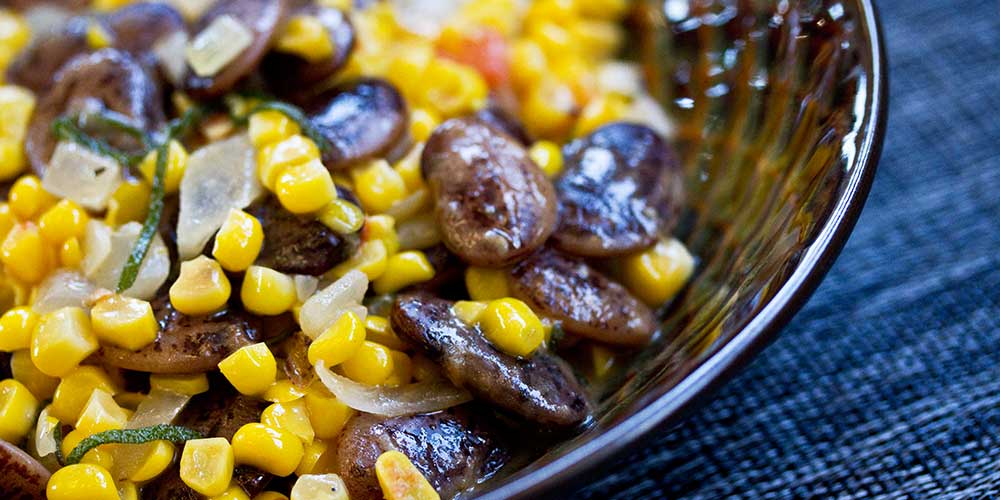 INGREDIENTS
1 Roma Tomato

2 ears of Corn

1/2 cup chopped Onion

1 cup dry Christmas Lima Beans

3+ tbsp Unsalted Butter

Salt & Pepper to Taste
DIRECTIONS
1
The Night Before – Rinse the lima beans and put them in a bowl covered with 2 cups of cold water. Cover the bowl and store it in the fridge for 8+ hours.
3
Add the beans to a pot of cold water. Bring the water to a simmer, and cook until tender (likely an hour or longer).
4
Bring a separate pot of water to a boil. Prepare a small ice water bath.
5
Cut a 1 inch "x" into one end of the tomato. Add the tomato to the boiling water.
6
After 20 seconds, scoop the tomato out of the water and plunge it into the ice bath. Once it has cooled, take it out and peel the skin off using the points at the x. Core & dice the peeled tomato.
7
Cut the corn kernels off of the cobs.

8
nce the beans are tender, remove them from the heat. Melt the butter in a large saucepan. Add the onion &
sweat
it until it starts to soften.
9
Add the tomato & corn, continue to sweat until the corn is almost cooked.
10
Roll the sage leaves and thinly slice them (cut chiffonade).

11
Add the beans and the sage, then cook briefly to meld the flavors. Taste, season with salt & pepper & serve.