Chipotle, Squid & Basil Pasta
Makes 4 Servings
WINE PAIRING
Soave Classic
This seafood pasta recipe offers a complex blend of colors, flavors & textures: spicy-sweet, tender-chewy & citrusy-umami.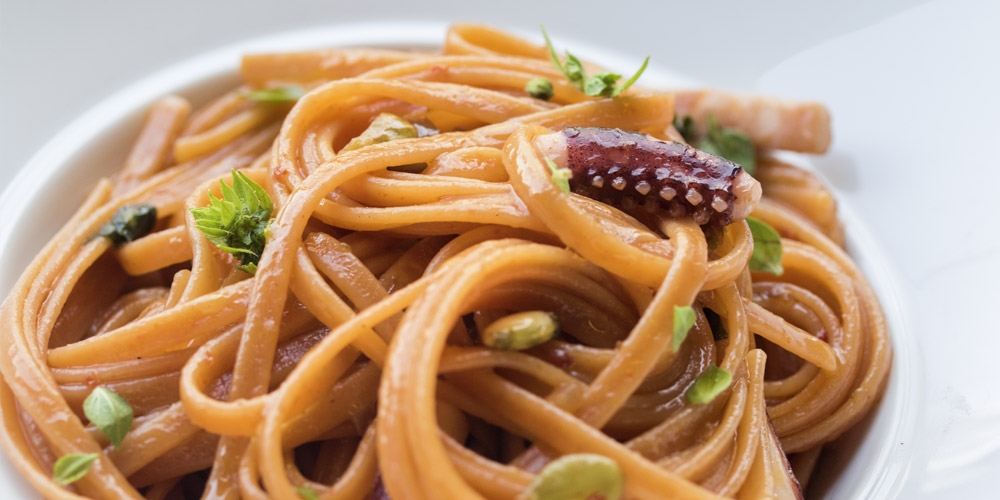 INGREDIENTS
1 small Dried Morita Chipotle Chile
1/4 cup Shelled Pumpkin Seeds (aka Pepitas) or Pine Nuts

¼ cup Olive Oil

¼ cup Shallot, finely minced

1 1/4lb Squid, tentacles & tubes, tubes cut into strips

¼ cup White Wine

1 (8.8oz) package Morelli Red Chile Linguine

Juice of 1 Lemon

3 tbsp Fine Extra Virgin Olive Oil

1 tsp Red Boat Fish Sauce

¼ tsp Honey

1/4 cup Chopped Italian (Sweet) Basil

Salt
DIRECTIONS
1
Toast the pumpkin seeds and chile in a dry pan. They're ready when the chile softens and becomes more aromatic, and the pumpkin seeds just start to brown & puff up.
2
Bring a large pot of heavily salted water to a boil.
3
Remove the chile & pumpkin seeds to a plate. Add the ¼ cup of olive oil to the pan along with the shallots and a pinch of salt. Cook over medium-high heat, just until the shallots start to brown.
4
Remove the chile's stem & shake out the seeds. Discard the stem & seeds. Grind the remainder of the chile to a fine powder in a spice grinder or clean bladed coffee grinder.
5
Add the squid to the pan & cook until the pieces just start to firm up (about 2 minutes).
6
Add the white wine to the pan & turn off the heat.
7
Simmer the pasta until it's almost al dente (you want it a little underdone).
8
Strain the pasta out of the water & add it to the pan with the squid. Add the fine extra virgin olive oil, lemon juice, 1 tsp of the chile powder, fish sauce, honey, and the toasted pumpkin seeds.
9
Turn the heat under the squid pan up to medium. Toss the contents until well combined, cooking until the pasta is al dente & has absorbed all the liquid.
10
Remove the pan from the heat & gently stir in the basil. Serve.