A Marx Foods Eater of Honor alumni and a principal organizer of the bake sale fundraiser Will Bake for Food, Jenny says few things surpass her "fascination with flour, sugar, and fat" and we love her recipe for chicken spelt waffles. Thanks for sharing it with us, Jenny!

Mildred Pierce. I was and still am a serious noir junkie, and Mildred Pierce had something for me. Oftentimes those novels were about the ladies, women behaving badly, like Phyllis Dietrichson in Double Indemnity. Sometimes it was the hair, the padded shoulders, the hips. But Mildred Pierce had something different. It had chicken and waffles. I can't think of many stories from that period about hardworking women opening up their own fried chicken palaces, so Mildred Pierce always stuck in my maw. I carried her around for a long time, until one day I found myself standing in front of a chicken and waffle joint in Long Beach, California. It was the book come to life for me, sunshine, grease and maple syrup.
When Justin Marx offered me this opportunity to cook with some of his amazing products, I thought long and hard about my options. I've always been more of a baker than anything, but after taking on a few challenges with his poulet rouge and pheasants, I was ready to try something that married the artistry of pastry with the savory. I wanted to reproduce that same Southern California sunshine, and with a little spelt four and patience, I'll say I did just that.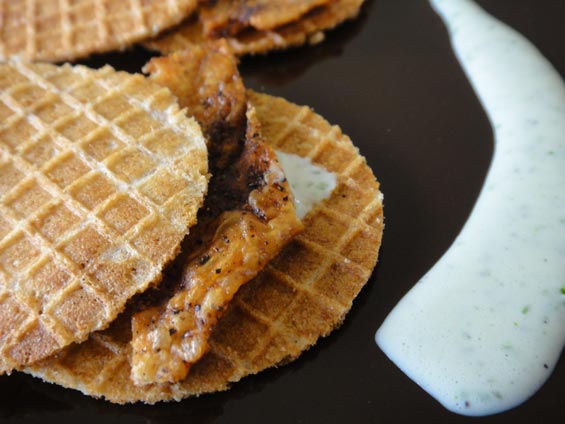 My inspiration was a Dutch treat called a stroopwafel, also known as a syrup waffle. It's a very thin waffle sliced lengthwise and filled with caramel. Typically a stroopwafel is made from a sweet waffle batter, but I wanted something that tasted like a waffle, not a cookie. I chose Justin's spelt flour because it was locally produced, and it has a fresh, nutty smell and a relatively coarse grain. Combined with buttermilk, I knew it would taste like a whole wheat waffle. I got my hands on a ice cream cone maker and used it to make thin, crispy 'waffles' the size of a silver dollar.
Next came the chicken, which I always knew I would do with skin and not a whole bird. I stretched out a solid piece of chicken skin and seasoned it the way I would fried chicken, with salt, pepper and a dash of cayenne. That was it. I laid it onto a cold griddle and placed a heavy flat pan over it, and turned on the heat very low. I didn't want the skin to curl as it cooked, so I kept the pan on top and heat down. Peeking under the pan after about 4 minutes, I flipped the skin, returned the pan, and kept cooking. The skin rendered completely after about 10 minutes, but it didn't crisp up until it had been sitting off the heat for another 5.
Finally, the element that tied it all together. I had mussed and fussed over a caramel sauce, but using one would have been a too literal stroopwafel variation. I needed something to support that chicken and waffle experience, and I found it in a homemade buttermilk ranch dressing. Tangy, herby, and just like home, it lent moisture and contrast to the waffle and chicken skin.
Instead of spending all day slaving over hot grease and an industrial size waffle maker, I opted for brunch instead, downing a cocktail with my bite of chicken and waffles. Mildred would have been proud.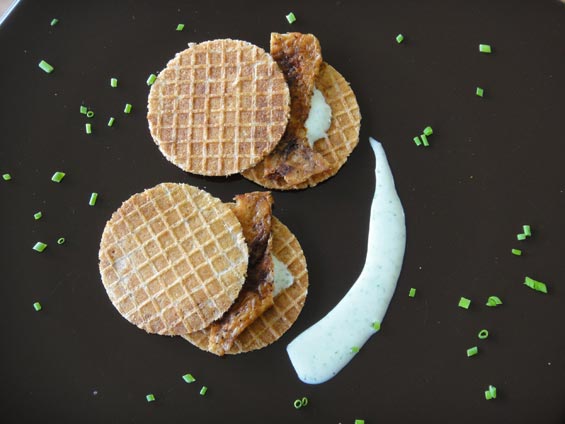 Buttermilk Spelt Waffle Recipe (makes enough for 4 full-size waffles)
2 c spelt flour
2 tsp baking powder
1 tsp baking soda
1/2 tsp salt
2 c buttermilk
1 stick butter, melted
2 eggs
1 T honey
1. Combine the dry ingredients.
2. Combine the wet ingredients.
3. Fold the wet and dry ingredients together until just combined (enough so everything is moistened).
4. Bake in a standard waffle iron.
__________
Browse More:
Grain & Flour Recipes