Fried Chicken Livers w/ Polenta Cakes & Sorghum
DRINK PAIRING
Lager or Pinot Blanc Wine
Breaded & fried chicken livers, dense polenta (grits) cakes served with pickled jalapenos and drizzled with sorghum syrup.  This Southern-inspired dish is packed with flavor that any liver-lover is sure to enjoy.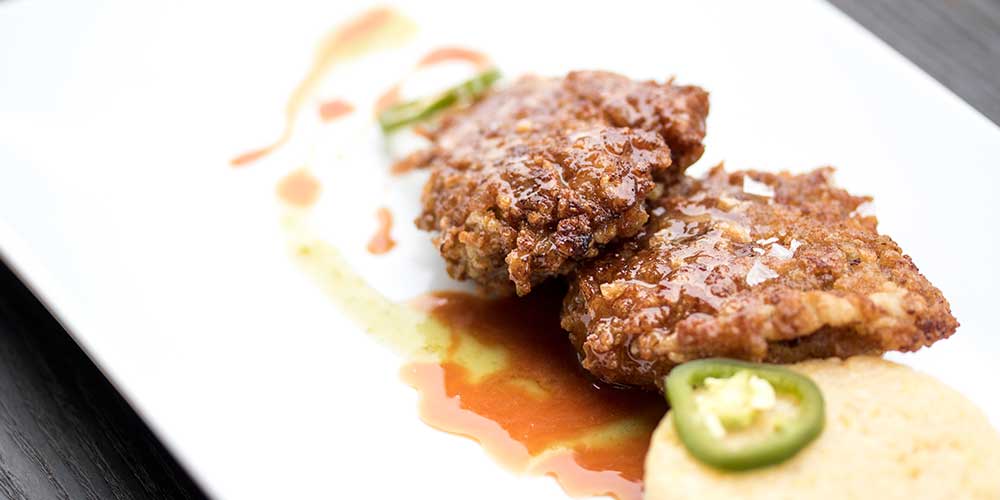 INGREDIENTS
Buttermilk

2 Eggs

1lb Chicken Livers

1 tbsp Portland Green Pepper Sauce, plus extra for finishing plates

Canola Oil
Breading:

½ cup Corn Flakes roughly ground

½ cup All Purpose Flour

1 tsp Salt

2 additional cups Corn Flakes, very lightly ground
Polenta:

3 1/2 cups Chicken Stock

1 cup Medium Grind (Regular) Dry Polenta

1/2 tsp Salt, plus extra to taste

2 tbsp Unsalted Butter
Pickled Jalapenos:

¼ Seasoned Rice Wine Vinegar

2 Jalapenos, thinly sliced
Sorghum Syrup:

¼ cup Sorghum Syrup

1 tbsp Honey Wine Vinegar
DIRECTIONS
1
Cut any connective tissue off of the chicken livers. Soak the livers in the buttermilk, in the fridge, for a half hour.
2
heat the stock in a large sauce pot on the stove with the salt.  Rain in the polenta, whisking constantly.  Continue to whisk on the heat until the polenta has thickened and is cooked through.  Whisk in the butter, then pack the polenta into a baking dish & let it sit for 20 minutes, until set.
3
Heat up the rice wine vinegar on the stove, then pour it over the jalapeno slices.  Let them sit for an hour before use.
4
Whisk the eggs and mix them into the buttermilk & liver bowl with the tablespoon of hot sauce.
5
Mix the all-purpose flour, salt and ½ cup of roughly ground cornflakes together in a large zip top bag.
6
Put the remaining corn flakes in a separate large bag.
7
Drain the buttermilk mixture off three livers, and shake them in the bag to coat.
8
Repeat with the other livers in three-liver batches.
9
Dip the breaded livers in the buttermilk mixture again, then toss them in the bag with the larger pieces of corn flakes.
10
Pour a half inch layer of canola oil into a wide skillet & get it quite hot.  Pan-fry the livers in batches, flipping as necessary, until golden brown & crispy on both sides & cooked through.
11
Move the livers to a plate covered in paper towels to drain.
12
Combine the sorghum and honey wine vinegar in a small sauce pot & warm until thinned.
13
Cut the polenta into cakes.  Serve the chicken livers with polenta cakes, jalapeno hot sauce, the pickled jalapenos and a drizzle of sorghum syrup.