Reader Donna-Marie shares her entry in the "A Chile & A Spoon" Recipe Challenge: a mole stew recipe she came up with using a clever combination of dried chilies, spices, and dried fruit.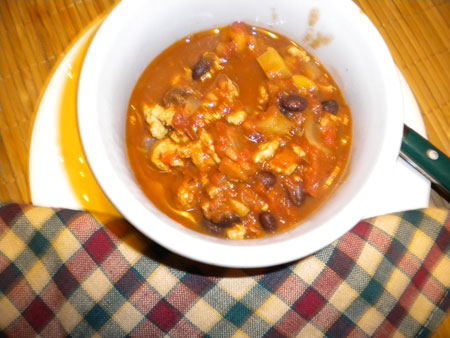 I decided to do a twist off of an Oaxaca type mole using chicken as the meat and fruit with a cinnamon chocolate essence. Two types of chilies were selected from the incredible assortment. I first picked the small Tepin chilies because they looked so cute and unassuming even though they had a high heat rating. I felt I would grind them and place the powder directly into the base. I looked over the other and read about them and decided on also using a large Gujillo chili. This I place directly into the pot after removing the stem. I wanted to use it as you do a Bay leaf and just let the flavor cook out. Once I decided on the chilies to use I built my stew.I had purchased a package of dried fruit to use but when I looked over the assortment the fruit were all pale and I wanted some darker fruit too so I added some dried cherries which had wonderful flavor. Pineapple was added for sweetness, tomatoes for a base and chicken stock as a standard. Here it is:
Chicken and Fruit Cinnamon Mole Stew
1 tablespoon butter
1 medium yellow onion, coarsely chopped
1 garlic clove, crushed
1 pound ground chicken
¾ teaspoon ground Tepin chilies ( about 10-12)
1 – 8 oz can crushed pineapple with juice
1 – 14 ½ oz can chopped tomatoes in liquid (use a good quality where the liquid is tomato and not water)
1 cup dried fruit, coarsely chopped ( apricots , apples, pears and cherries)
1 – 19 oz can black beans, drained
1 cup chicken broth
2 tablespoons cider vinegar
1 teaspoon cinnamon
1 teaspoon unsweetened cocoa
Salt and pepper to taste
1 Guajillo chili, stem removed
Melt the butter in a large saucepan over medium heat and add the onion and garlic. Cook until they are soft, about 4 minutes. Add in the ground chicken and cook and crumble with a fork . Once the chicken is almost cooked add in the ground Tepin chili powder. Lower the heat and add in the pineapple, tomatoes, fruit and beans. Stir to mix and add in the rest of the ingredients. Allow to cook for 10 minutes stir and check flavor. Add more salt if necessary. Cover and allow to  cook for another 15 minutes.
To serve remove the large Gujillo chili and discard , ladle the stew  into bowls and serve with a large spoon for eating!
Serves: 4-6
This was very good the first night and the flavor improved after reheating. I'd make this again. The warmth of the chilies came thru but was not over powering. I could have added more cinnamon or chocolate but we liked it the way it was.
___________
Browse More:
Poultry Recipes
Dried Chile Recipes & Techniques