Choucroute garnie is a satisfying comfort food made from sauerkraut, sausage and potatoes. It is a traditional dish from Alsace, a region of France combining German and French influences.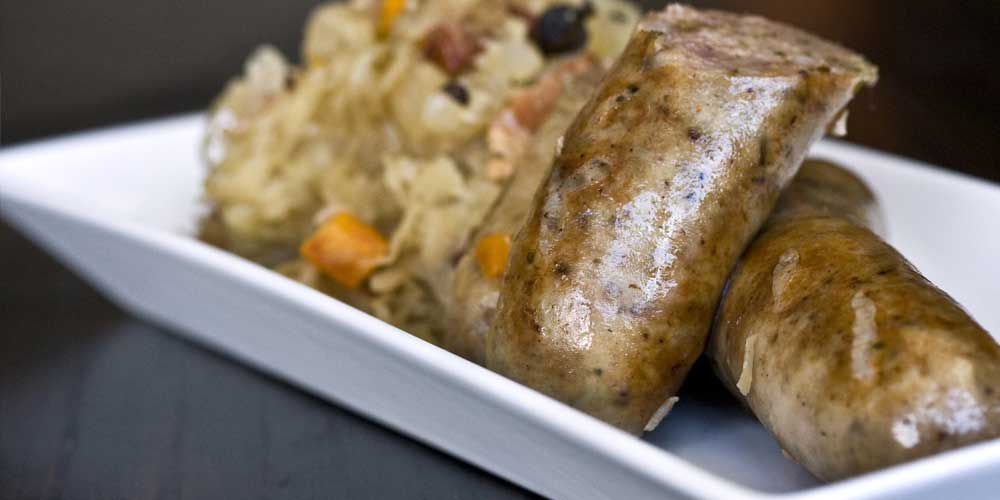 DIRECTIONS
1
Soak sauerkraut in cold water for 20 minutes. Then, rinse in a colander. This will remove the intense vinegary note and make the flavor of the cabbage stand out. It helps to create a dish that is more balanced.
1
Pat the pork chops with a paper towel to dry. Season with salt and pepper.
1
Cut bacon or belly into chunks. Add to dutch oven that has been brought to medium heat. Rendering the bacon/belly will provide the cooking fat for the dish.
2
Once the bacon has been rendered and has crisped up, remove it and all but 2 tbsps of fat from the pan.
3
Add the pork chops to the pan and brown them on each side.
4
Once the pork chops have browned browned, remove them as well. Pour off any excess fat.
5
Add onions and garlic and sauté until translucent. If the fond (browned bits at bottom of pan) is at risk of burning, deglaze with a few tablespoons of wine.
6
Add the following to the onions and garlic: drained sauerkraut, wine, carrots, bacon (but not the bacon fat), juniper berries, bay leaf, caraway, black pepper to taste, browned pork chops and chicken stock
8
Put the lid on the dutch oven and move it to an oven preheated to 325 degrees. Braise for 1 ½ hours.
9
Halfway through the braise, return 2 tablespoons bacon fat to a sauté pan. Once hot, add whole rabbit sausage and brown on each side. Add browned sausage to the dutch oven (simply nestle it on top with the pork chops).
10
Also while dish is braising, prepare the potatoes: Add potatoes to a pot of cold, salted water and bring to a low boil. Cook until the potatoes are tender and drain.
11
Remove the dutch oven from oven once the 1 ½ hours have elapsed. Taste and adjust seasoning with salt and pepper as needed.
Arrange a bed of some of the sauerkraut mixture along with some of the potatoes. Top them with a piece of sausage and a pork chop.