Char-Siu Marinated Flank Steak
Rich, toothsome flank steak marinated in a Chinese-inspired sauce and served alongside coconut-y black rice.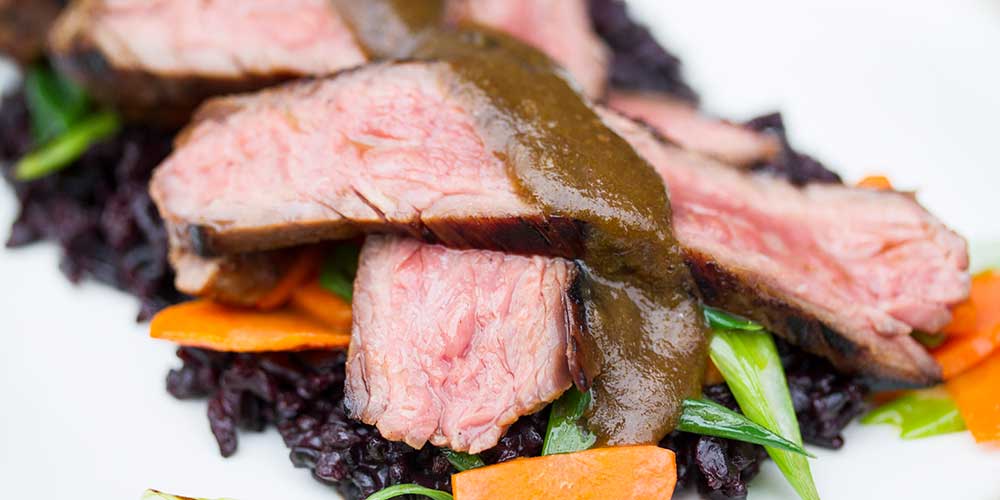 INGREDIENTS
Marinade:

½ cup Oyster Sauce

1" Piece of Ginger, peeled & chopped

¼ cup Soy Sauce (could substitute tamari soy sauce if desired)

2 cloves Garlic, peeled

1 bunch Green Onions, chopped (root ends discarded)

1 piece Star Anise
Coconut-Infused Black Rice:
1 cup Chinese Black Rice

1 cup Coconut Milk

1 cup Water

1 tsp of Salt
Plus:

Vegetable Side of Choice
DIRECTIONS
1
Preheat your oven to 350 degrees.
2
Combine all marinade ingredients in a blender & blend until smooth (you could also use an immersion/stick blender & a bowl).
3
Dip both sides of the steak in the marinade to coat. Then cover the steak with the marinade & marinate for a couple of hours.
4
Combine the black rice, coconut milk, water and salt in a small oven-safe pot. Bring the liquid to a boil, then cover the pot and move it to the oven. Cook until the liquid is absorbed and the rice is tender (approx. 30 minutes).
5
Heat a large, oiled frying pan over high heat (or oil & preheat a grill (not too hot, lest the sugar burn)). Scrape most of the marinade off of the flank steak.
6
Pour the remaining marinade into a separate pan & bring it just to a boil. Remove it from the heat
7
Sear the flank steak on both sides in the hot pan (or grill), flipping as necessary, until it develops a dark (but not burnt) crust (we recommend cooking to Medium or less). Remove it from the pan/grill and let it rest, loosely covered with foil, for about 10 minutes.
8
Thinly slice the steak against the grain, on the bias.
9
Serve the steak with the coconut rice, the marinade sauce, and your preferred vegetable side.