Chanterelle, Onion & Thyme Stuffing
Though we've called it a stuffing, this is actually a deliciously savory bread pudding. The custard base binds it together into a sliceable consistency that's easy to serve and extra-luxurious.
This recipe has been adapted from Shroom by Becky Selengut.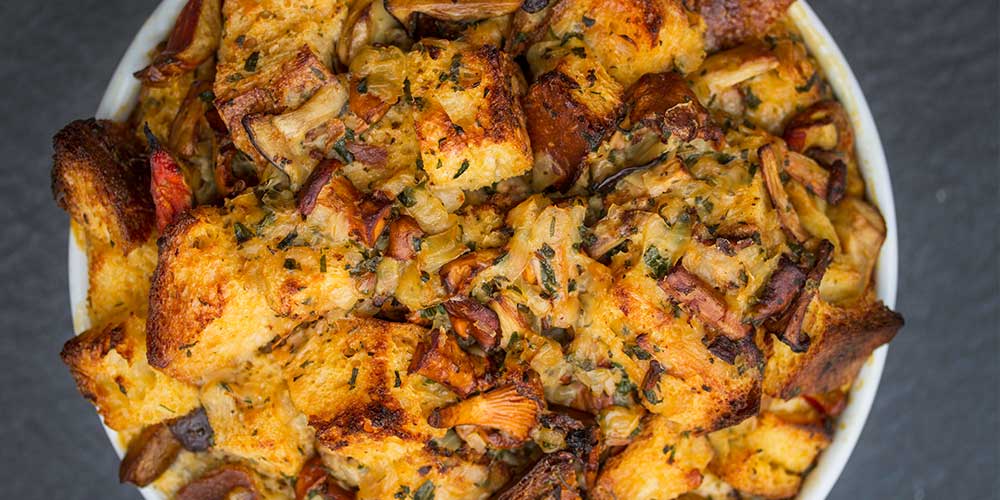 INGREDIENTS
Caramelized Onions:

2 Onions

1 tbsp Unsalted Butter

Over 1 cup low/no sodium Chicken Stock

1 tsp Salt
Sauteed Mushrooms:
1lb Other Fresh Wild Mushrooms (not Matsutakes)

3 tsp Unsalted Butter

¼ cup Extra Virgin Olive Oil

1 tsp Salt

1 tbsp Tomato Paste

1 tsp Dijon Mustard

¼ tsp Cayenne Pepper

¼ cup minced Flat Leaf Parsley

1 tbsp minced Fresh Thyme

1 tbsp minced Fresh Sage

½ cup Dry Vermouth

Bread Pudding Base:

5 Large Eggs

2 cups Half & Half

1 cup Heavy Cream

6 cups 1" cubes of Rustic Bread*

½ cup grated Parmigiano Reggiano Cheese

¾ tsp Salt
Unsalted Butter for greasing the pan
DIRECTIONS
1
*Buy the bread the day before you plan on using it, or if using fresh bread, bake it at 350˚F for 10 minutes to dry it out.
2
If you haven't already done so in order to dry the bread, preheat your oven to 350˚F.
3
Grease a 9" by 11" baking dish with butter.
4a
Finely dice the onions and put them in a saucepan with a tablespoon of the butter, a tablespoon of the salt, and the cup of chicken stock. Cook over low heat, covered, for about 20 minutes, stirring as necessary. If the pan starts to look dry, add more chicken stock to prevent burning.
4b
Remove the cover and sauté the onions, while stirring, until they've caramelized.
Deglaze
the pan with a little more chicken stock.
5
Trim the bases off the mushroom stems & separate any clumps.
Make the Sauteed Mushroom Mixture:
6a
Heat two large skillets over medium heat (alternatively, use one skillet to cook two batches). Split the butter, olive oil, salt and both types of mushrooms between the skillets.
6b
Increase the heat to medium-high and sauté the mushrooms until they wilt and start to brown (about 4-6 minutes).
6c
Combine the contents of both skillets into one of them. Add the caramelized onions, thyme, sage, parsley, tomato paste, mustard and cayenne. Continue to cook for another minute, then increase the heat to high and deglaze the pan with the vermouth. Continue to cook until all the vermouth has evaporated, then remove the pan from the heat.
Make the Bread Pudding Base:
7
Whisk the eggs in a large bowl. Whisk in the cheese, half & half, and cream. Then stir in the sautéed mushroom mixture, salt and bread cubes.
8
Pour the bread pudding base into the baking dish. Cover it with foil and bake for 30 minutes.
9
Remove the foil and increase the oven temperature to 375˚F. Bake the stuffing for an additional 15-20 minutes (until the top has been browned). Serve.