Farro Salad with Roasted Beets, Sea Beans, Fennel & Chanterelles
Nutty, chewy farro (emmer) grain salad loaded with flavor and texture. The seabeans can be omitted, but they add further complexity to the salad as well as some saltiness and very welcome green color.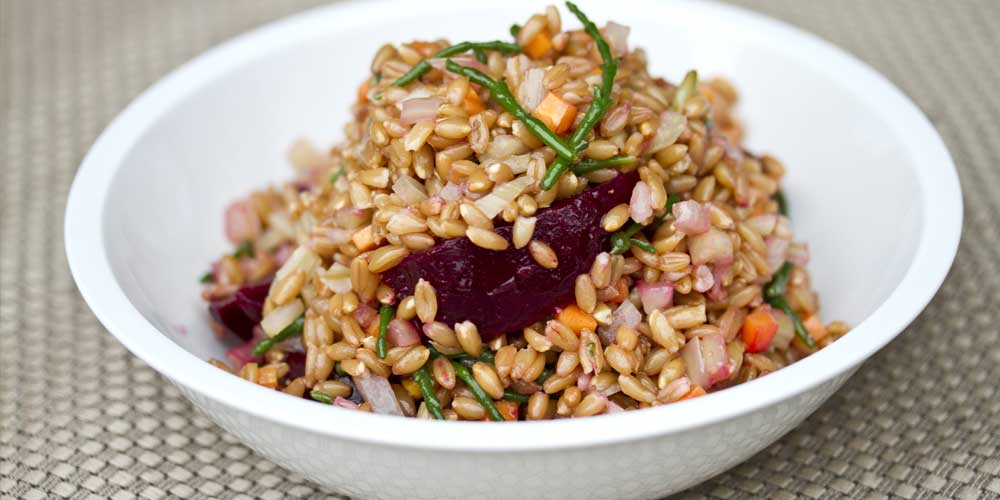 DIRECTIONS
1
Preheat your oven to 375 degrees.
2
Wash, oil, and salt the beets. Cut the fennel bulb in half and pull apart into sections. Lightly coat them with salt, pepper, and oil. Place the beets and fennel bulb in separate baking dishes and cover them with foil.
3
Cut the top off of the garlic bulb and wrap it in tin foil. Place the baking dishes in your oven to roast with the garlic bulb on top.
4
Roast for about an hour, until the beets are soft, the fennel bulb is tender, and the garlic has become dark and sweet.
5
In a large pot completely cover the farro with water and bring it to a simmer. Simmer until tender, adding more water if necessary to keep the farro submerged.
6
Peel the beets and let them and the fennel cool completely.
7
When the farro is tender, drain off the water and spread the grain out on a baking sheet to cool.
8
Saute the chanterelles whole in hot oil with a pinch of salt until browned and they emit a rich, nutty aroma. Let cool completely.
9
Cut the beets into thin wedges, roughly chop the fennel bulb, and mince the pickled carrots.
10
Lightly blanch the seabeans in salted water, then shock them in an ice water bath or under running cold water.
11
Make the roasted garlic vinaigrette
with the roasted garlic, vinegar, shallot, mustard, and oil. (
how to make a vinaigrette
). You should be able to just squeeze the roasted garlic out of its peel into your vinaigrette bowl.
12
Toss all the salad ingredients with the vinaigrette, and serve family style in a large bowl.