Cauliflower Fritters with Harissa-Spiked Labneh
Makes 4 Appetizer Servings
WINE PAIRING
Kabinet German Riesling
These vegetable fritters are spiced & finished with a blend of Moroccan flavors – a delicious, intriguing appetizer.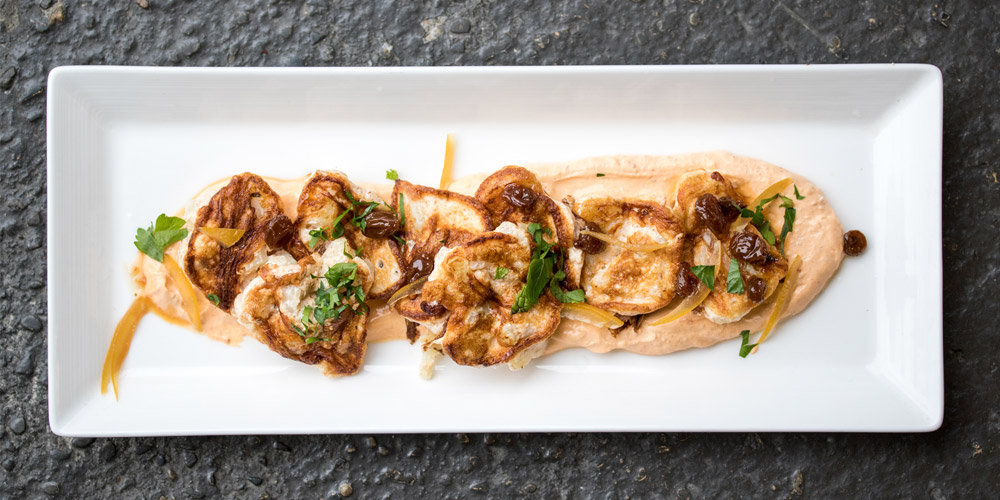 INGREDIENTS
Cauliflower Fritters:

2 cups Cauliflower Florets

1 tsp Kefta Rub

½ tsp Salt

½ tsp Baking Powder

6 tbsp Labneh
Harissa Labneh:

¼ tsp Lemon Zest

2 tsp Villa Jerada Harissa

½ cup Labneh

¼ tsp Lemon Juice

¼ tsp Aleppo Pepper

Salt & Pepper to Taste
Finishing/Garnishes:

Boat Street Pickled Raisins

Preserved Lemon, pith removed

Squeeze of Lemon Juice

Flat Leaf Parsley
DIRECTIONS
1
Blanch the cauliflower florets in boiling water until tender, then
shock
them in an ice water bath.
2
Mix together all the harissa labneh ingredients. Let the mixture sit for 15 minutes (or refrigerate for longer) before serving.
3
Whip the egg whites to stiff peaks.
4
Combine the salt, kefta rub and baking powder in a large bowl. Mix in the 6 tablespoons of labneh. Gently fold in the whipped egg whites & the cauliflower.
5
Scoop the coated cauliflower out and put the fritters in a hot, oiled non-stick pan, working in batches. Pan fry them, flipping once, until golden brown on both sides.
6
Drain the cooked fritters on a plate with paper towels. Squeeze the lemon juice over them.
7
Dice some of the preserved lemon.
8
Spread some of the harissa labneh on each plate. Top it with fritters, then finish with a sprinkle of salt, a few pieces of preserved lemon, parsley leaves, and some pickled raisins.