Natasha from 5 Star Foodie is back with a trio of recipes for a complete three-course fennel pollen tasting menu.  She starts us off with a cauliflower soup that looks like just the thing to shake off cold weather.  Don't forget to check our her entree- Seared Bay Scallops with Fennel Pollen Foam and dessert – Fennel Pollen Pot de Creme —
February Fennel Pollen Friday: Cauliflower Fennel Pollen Bisque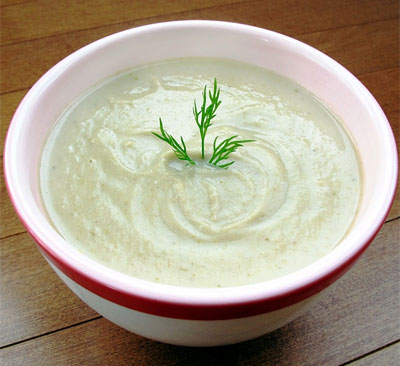 Fennel pollen is a fragrant spice with a mysterious flavor, reminiscent of fennel seeds but sweeter, a lot more aromatic and potent.  Fennel pollen is collected from the flowers of the fennel plant that grows wild on the sunny inland and coastal fields of California.  The flowers are collected at the peak of bloom and carefully dried and screened for the pollen.  It takes many fennel flowers to produce a small amount of the pollen, making this spice almost as expensive as saffron.  However, only a small pinch of fennel pollen is required to add an intriguing and intense aromatic dimension of flavor to seafood, meat, or vegetables.
On Fridays in February, I will explore this spice in three different dishes.  Today's recipe shows how the addition of fennel pollen can enhance the taste of cauliflower in a creamy and deliciously aromatic bisque.
Ingredients: (makes 4 half-cup appetizer servings)
2 tablespoons butter
Cauliflower florets, about 2 cups
2/3 cup onions, chopped
1 parsnip, peeled, chopped
1 tablespoon fennel pollen
1 1/2 cup stock
1/2 cup cream
Salt, pepper to taste
Directions:
In a large saucepan, melt butter.  Add cauliflower, onion, and parsnips and cook the vegetables for 5-8 minutes until the onions are translucent.
Add fennel pollen, mix well.  Pour stock over and season with salt to taste.  Cook for about 20 minutes or until the vegetables are soft.
Blend well using immersion blender (can also use food processor or a regular blender).  Strain back into a saucepan.  Add cream and mix with an immersion blender.
Heat until the soup just starts to boil and serve immediately.
___________
Browse More:
Fennel Pollen Recipes
Spice Recipes
Produce Recipes