Middle Eastern-Style Carrot Salad
Makes 6-8 Servings
WINE PAIRING
Alsace Pinot Gris Wine
This colorful, complex salad blends crisp, sweet raw carrots blended with spices, bright parsley, soft, chewy dates and bitter wilted radicchio.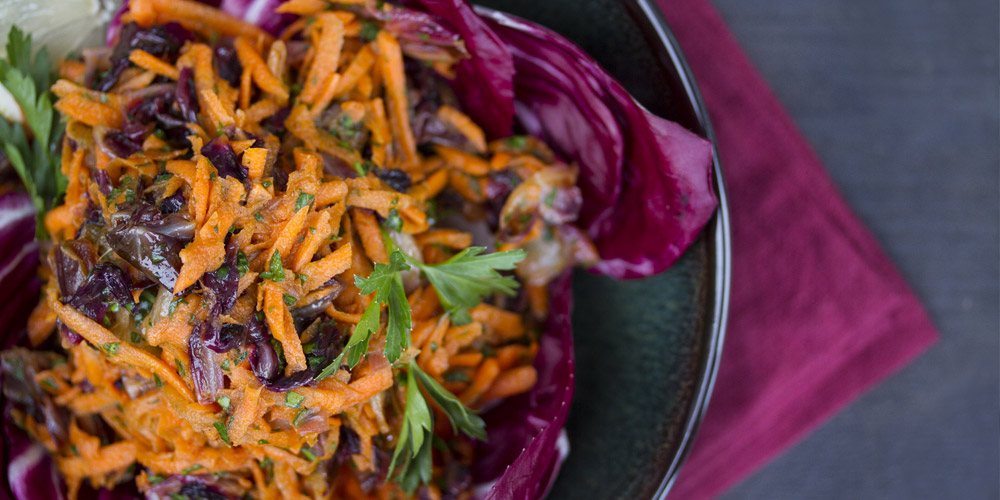 INGREDIENTS
1lb Carrots

2 tbsp Honey Wine Vinegar

5 Medjool Dates, Pitted

¼ cup + 3 tbsp Olive Oil

1/8 cup minced Shallot

3 cups chopped Radicchio

1 pinch of Salt

1/8 tsp Cinnamon

1/8 tsp Spanish Paprika

¼ tsp Cumin Seeds

½ cup minced Flat Leaf Parsley

Juice of ½ a Lemon

1 heaping teaspoon Fine Sea Salt

1 tsp Honey (we used Creamy Cypress Honey)
¼ tsp Ancho Chile Powder
Garnish

Outer Radicchio Leaves

1 Lemon Disk
Optional: Chopped Pistachios
DIRECTIONS
1
Peel the carrots and grate them using a food processor or box grater (standard cheese grate).
2
Heat a cast iron skillet over medium-high heat. Add the 3 tablespoons of olive oil, minced shallot and pinch of salt. Saute the shallot for a minute.
3
Add the radicchio, cinnamon, cumin, chile powder, honey, and paprika. Saute, stirring, until the radicchio wilts and starts to caramelize.
4
Cut the medjool dates into quarters and cut the quarters in half into eighths. Add them to the radicchio.
5
When the radicchio has broken down, add it to the grated carrots in a large bowl. Stir to combine.
6
Add the parsley, lemon juice, honey wine vinegar, and sea salt.
7
Layer the outer radicchio leaves in a bowl, put the salad on top of them. Garnish with the lemon wheel and (if desired) chopped pistachios.