Makes 6-8 Servings (8-10 Appetizer Servings)
Bright, deep, tangy & very savory, caponata's a delicious vegetarian topping for bruschetta. Serve it as an appetizer or a light meal. It would probably also be good as a pasta sauce.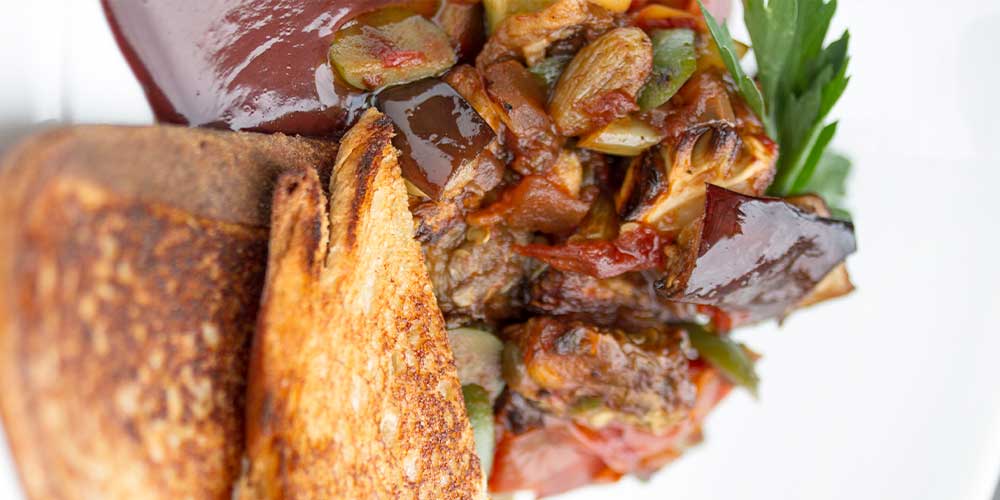 INGREDIENTS
2 small Eggplants, large diced

1 Fennel Bulb, large diced

¼ cup + ¼ cup Olive Oil

1 cup Castelvetrano Olives, cut from around the pit

1 cup drained & chopped Canned Tomatoes

½ cup Pine Nuts, toasted

1 Onion, small diced

3 stalks Celery, cut ¼" thick on the bias

1 tbsp minced Fresh Rosemary

2 tbsp brined Capers, drained, rinsed & chopped

2 tbsp Tomato Paste

1 tsp Red Chile Flakes

1 cup Red Wine Vinegar

½ cup Sugar

Splash Red Wine (we used Barbera)

¼ cup Golden Raisins (Sultanas)

Salt
Chocolate Base:

2.6oz 75% Dark Chocolate (we used Chocovivo)

½ cup Heavy Cream

1 pinch Smoked Alaskan Flake Salt

1-2 loaves Crusty Artisanal Bread
DIRECTIONS
1
Preheat your oven (convection if possible) to 400F.
2
Spread the diced eggplants and fennel on a large baking sheet/sheet pan.  Drizzle a ¼ cup olive oil over them and toss them to coat them with the oil.
3
Season them with salt, then move the pan to the oven to roast for 30 minutes.
4
While the eggplant & fennel are roasting, put another ¼ cup of olive oil in a large frying pan or skillet.  Add the 1 pinch of salt and the onion.
5
Saute the onion for 5 minutes, then add the celery, tomato paste, red chile flakes and rosemary.  Continue to saute for another 5 minutes.
6
Add the chopped tomatoes, olives, raisins, capers and red wine.  Cook for two more minutes.
7
Make a well in the middle of the pan (push all other ingredients aside) and add the vinegar and sugar.  Stir to dissolve the sugar.
8
Chop the chocolate bar & put it in a bowl with the smoked salt.  Bring the cream to a boil in a small pot, then pour it over the chocolate.  Let the mixture sit for a few minutes, then stir to combine.
9
Move the onion, celery, tomato, etc mixture from the pan to a large bowl.  Add the roasted eggplant & fennel and the toasted pine nuts.  Stir to combine & season to taste.
10
Slice the bread and drizzle it with some olive oil.  Toast the bread.
11
Pour some of the chocolate base onto plates.  Top it with the caponata mixture & serve with the toasted bread slices.