A close relative to ginger with less spicy bite and additional hints of pepper and citrus in its flavor, galangal becomes very mild when candied, a great substitute for people who think candied ginger's too strong. Candied galangal makes a great snack, but can also be used (as disks, cut into strips, or finely diced) as a dessert ingredient or topping for vanilla ice cream.
As a bonus, you'll also end up with some tasty galangal simple-syrup for use in desserts, sorbets, or drinks (try it in tea or cocktails!).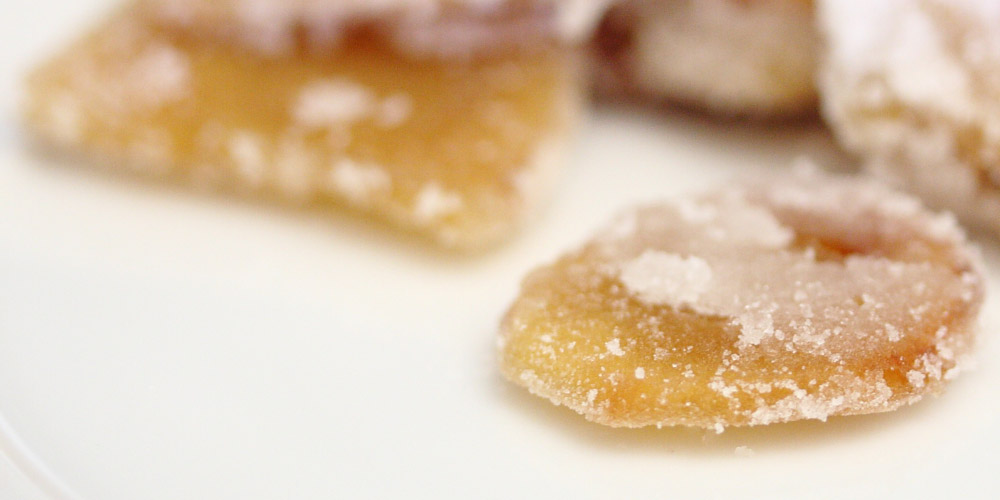 DIRECTIONS
1
Cut the galangal into separate nodes to make peeling easier. Peel it using a knife and/or vegetable peeler.
2
Thinly slice the galangal (ideally 1 or 2 millimeters thick) using a long serrated knife.
3
Add the sliced galangal to a pot of water. Bring the water to a boil.
4
Boil for 50 minutes. Then drain the water and reserve the galangal
5
In a small pot combine the galangal, 2 cups of sugar and 2 cups of water. Bring the water to a boil, stirring occasionally, until all the sugar has dissolved.
6
Lightly boil the syrup for 10 minutes. Flip the galangal slices.
7
Continue to lightly boil. After ten minutes, remove a slice and hold it under running cold water until safe to eat. Test it for tenderness.
8
Let the mixture continue to boil until the slices have become palatably tender (they will always be a little woody). How long this takes depends on how thick your slices are, but plan on around 10-15 minutes total. A good visual indicator is partial translucence of the galangal slices. Try holding any unusually thick slices below the surface of the syrup for a bit with tongs to speed their cooking time.
Note: Keep an eye the water level to make sure the syrup doesn't over reduce and start to burn. Add an additional cup of water if necessary.
9A
For "dry" candied galangal dusted with sugar: Remove the tender galangal from the syrup, and lay it out in a single layer on parchment paper to cool. Reserve the syrup for use in sorbets or cocktail and beverage recipes. Once the galangal has cooled enough to touch, move it to a zip-top bag with the remaining 1/4th cup of sugar and toss to coat, adding more sugar if necessary. Store in the bag with the sugar.
9B
For wet candied galangal in syrup: Leave the galangal in the syrup off of the heat, until the pot has cooled completely. Move the galangal and syrup to a sealed container in your refrigerator and take out pieces with a slotted spoon as needed.