BUTTER POACHED HALIBUT CHEEKS
WITH RAMPS
Makes 1 Serving
WINE PAIRING
California Chardonnay
When poached in butter, halibut cheeks are tender, rich, and slightly stringy, almost like lobster tails. The ramps add a hint of bite, although their spiciness is significantly diminished after butter poaching. We've paired them with beluga lentils here for visual contrast, but most lentils or varieties of specialty rice would work well.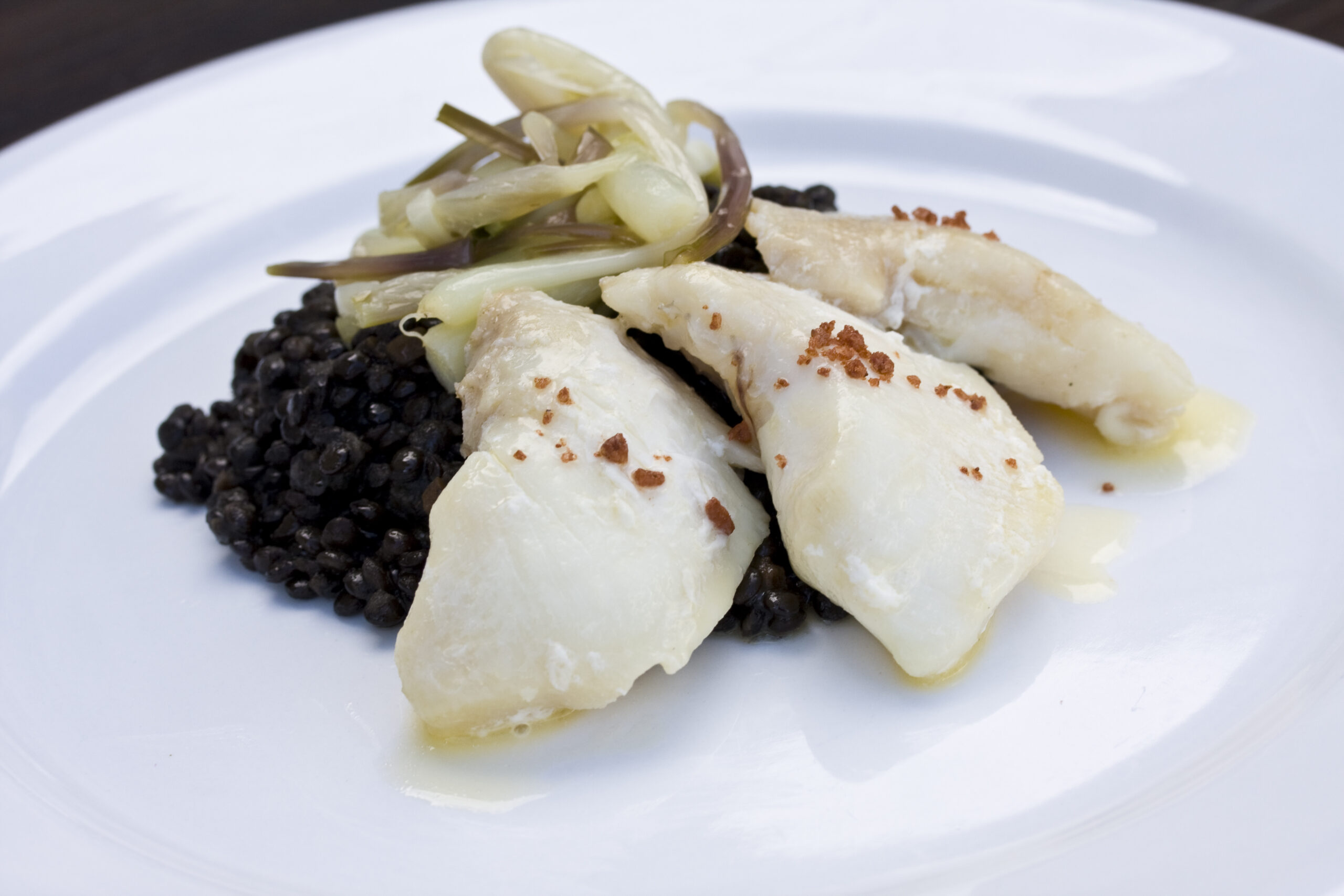 INGREDIENTS
Beurre Fondue, enough to come halfway up the halibut cheeks in your pot

3-4 Wild Ramps per person
2 Halibut Cheeks per person

Kosher salt, to taste

Finishing salt, such as Hawaiian sea salt
DIRECTIONS
1
Clean the fresh ramps by washing them thoroughly, pulling off any translucent outer skins that are clinging to the root end, and trimming the roots off.
2
Cut the leaves off the ramps and reserve as a garnish or some other recipe.
3
Add the rest of the ramps to a hot pot of beurre fondue along with a few pinches of salt. Poach gently. (Beurre fondue should not bubble.)

4
Remove the ramps when they are tender. Replace the ramps with your halibut cheeks.
5
Poach the cheeks until the underside becomes opaque, then flip them and continue to poach until they are opaque throughout.

6
When the cheeks are almost done, return the ramps to the pot to warm them.

7
Plate the cheeks and the poached ramps with grains or beans. (We used beluga lentils). Dust the cheeks with finishing salt for a color and flavor accent. (We used Hawaiian Red Sea Salt).