Citrus & Saffron Braised Rabbit Legs with Potatoes
Makes 8 Servings
WINE PAIRING
Red Burgundy
Rabbit legs are an excellent braising cut. Here we've paired them with classic Spanish flavors – orange, smoked paprika, saffron & sherry.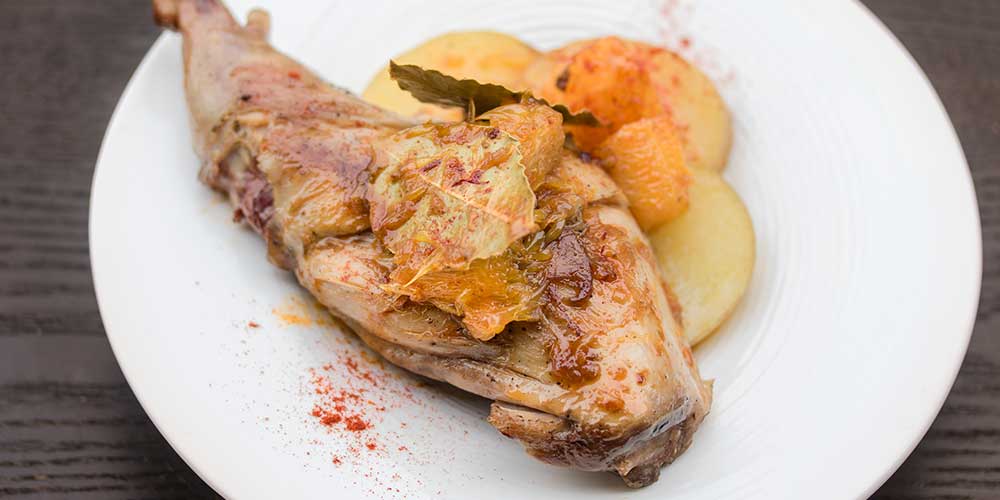 INGREDIENTS
2 cup Chicken Stock (lowest sodium possible)

8 Bay Leaves

Salt

¼ cup minced Shallots

2 tbsp Olive Oil

1/8 tsp Saffron Threads

1 tsp Sweet Smoked Paprika

2 Oranges, peeled & large diced

2 tbsp Dry Sherry

1 tsp Sherry Vinegar
Potatoes:

1lb Yukon Gold Potatoes

¼ cup Chicken Stock

2 tbsp Unsalted Butter

½ tsp Salt
DIRECTIONS
1
Preheat your oven to 325°F.
2
Season the rabbit legs generously with salt on both sides. Put them in a baking dish or oven-safe pot with the 2 cups of chicken stock and the bay leaves.
3
Cover the dish/pot with a lid or foil & braise the legs in the oven until they're tender, but not falling off the bone – about 1-1 ½ hours.
4
Slice the potatoes into ¼" thick slices. Lay them out in a tiled pattern (layered if necessary to fit) in a separate baking dish.
5
Pour the chicken stock into the baking dish, then sprinkle the cubes of butter across the surface. Season with the ½ teaspoon of salt.
6
Wrap the top of the dish with foil & crimp it around the edges of the dish to secure it. Move the baking dish to the oven and bake for 20 minutes. Check the potatoes, and continue to bake them if necessary until tender (ours took a total of 30 minutes).
7
Remove the rabbit legs from the braising liquid. Dry them off & sear them on all sides to brown them in a hot, oiled pan over high heat until browned on all sides.
8
Remove the rabbit from the pan. Add the minced shallots & lower the heat to Medium. Cook them for a minute, then pour in the braising liquid from the braising dish.
9
Bring the liquid to a simmer, and simmer for 10 minutes.
10
Add the saffron, paprika, dry sherry, orange & bay leaves. Toss the oranges & bay leaves in the liquid.
11
Taste & add salt as necessary. Finish the sauce with a teaspoon of sherry vinegar.
12
Plate each rabbit leg with some of the potatoes, drizzled with the sauce & garnished with some of the orange cubes & (if desired – they aren't edible) one of the bay leaves.