Braised Rabbit with Morels Over Pappardelle
Makes 4 Servings
WINE PAIRING
Syrah
We've done braised rabbit dishes several times on the blog, but we keep finding new variations on this versatile meat – and each is very different from the last. The flavors in this dish are deliciously simple – morels, butter, veggies, thyme and rabbit.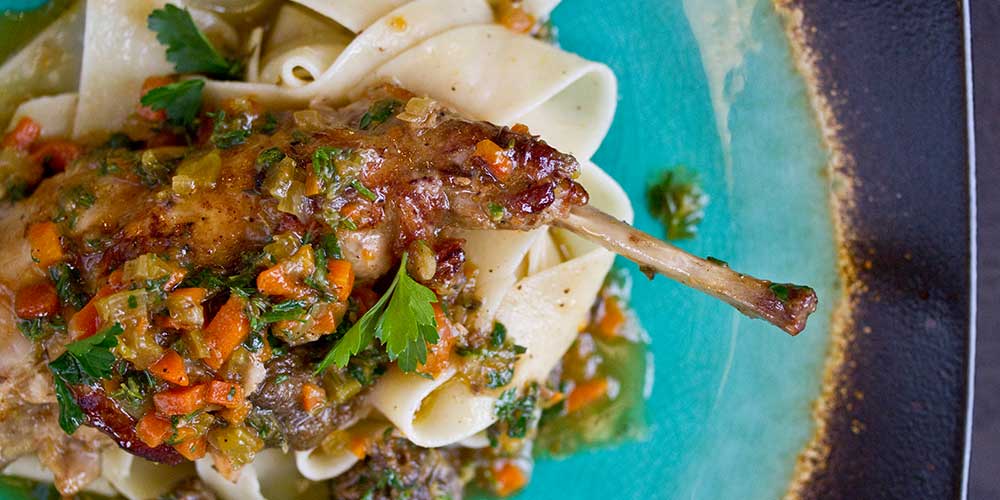 INGREDIENTS
4 Rabbit Legs or 1 Rabbit Fryer

8 tbsp Unsalted Butter

¼ cup diced Leek

¼ cup diced Celery

¼ cup diced Carrot

¼ cup diced Onion

½ cup White Wine

1/2lb Fresh Morel Mushrooms (could substitute Dried Morels – no need to reconstitute ahead)

1 cup Chicken Stock

½ bunch Fresh Thyme

1 tbsp chopped Thyme leaves

1 tbsp chopped Flat Leaf Parsley Leaves

1/2lb Pappardelle Pasta

Sherry Vinegar
DIRECTIONS
2
Preheat your oven to 400 degrees.
3
Melt four tablespoons of the butter in a Dutch oven or large pot.
4
Season the rabbit legs with salt & pepper and sear them on all sides in the melted butter, until just browned.
5
Add the leek, celery, carrot and onion. Brown them, then deglaze the pot with the white wine.
6
Cut any particularly large morels in half. Rinse all the morels to remove any sand or dirt. Add the morels to the pot along with the chicken stock and thyme.
7
Bring the chicken stock to a
simmer
, put a lid on the pot and move it to the oven to braise. Braise until the rabbit is tender and the meat can be pulled apart (about 1 ½ hours).
8
Remove the pot from the oven and discard the thyme sprigs. Remove the rabbit legs & reserve.
9
Put the pot on the stove and simmer to reduce the cooking liquid. Once reduced enough to coat the back of a spoon, add the chopped thyme and chopped parsley.
10
Boil the pasta until al dente. Drain & toss it with 3 tablespoons of butter, salt & pepper.
11
Just before serving, add the remaining tablespoon of butter and a couple drops of sherry vinegar to the braising liquid sauce. Stir to combine.
12
Serve the rabbit legs atop the pasta, topped with the braising liquid & vegetables.