Makes 4 Appetizer or 2 Entree Servings
WINE PAIRING
Left Bank Bordeaux Wine
Warm, smoky spices percolate through the braising liquid for these supremely tender lamb spare ribs.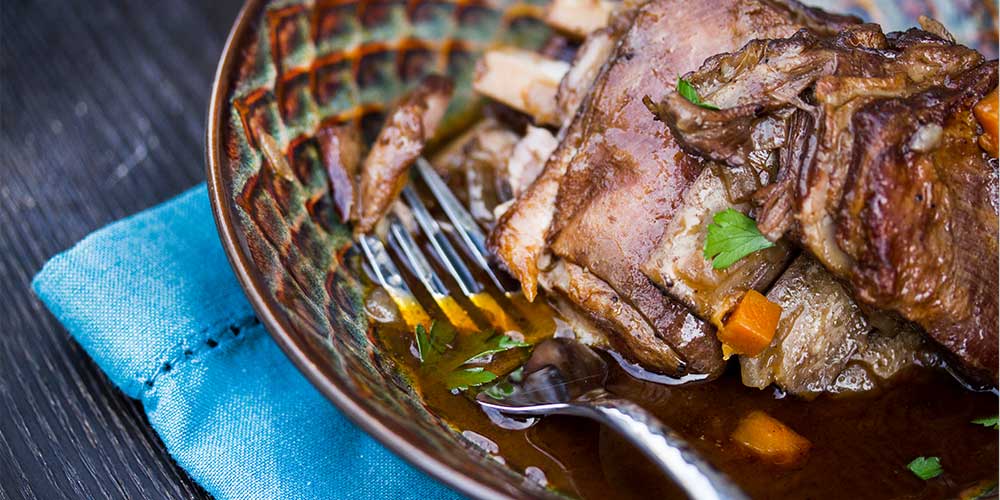 INGREDIENTS
1 tbsp Canola Oil

1 stalk of Celery, Diced

1 small Onion, Diced

1 small Carrot, Diced

1 tsp Umami Paste

1 tsp Piloncillo (could substitute Brown Sugar)

1/2 tsp Smoked Paprika

¼ tsp Ground Cinnamon

2 Bay Leaves

½ cup Red Wine

3 cups Chicken Stock (lowest possible sodium or homemade chicken stock)

Salt & Pepper
DIRECTIONS
1
Heat the canola oil in a large cast iron skillet over high heat.
2
Dry any moisture off of the spare ribs. Season them generously with salt & pepper on both sides.
3
Sear the ribs in the hot canola oil, meat-side down, just long enough to develop a nice brown crust.
4
Remove the ribs from the pan. Add the umami paste, cinnamon, piloncillo, paprika, bay leaves, diced onion, carrots and celery to the pan. Saute them for five minutes.
5
Return the ribs to the pan, nestling them amongst the vegetables. Add the red wine and chicken stock.
6
Bring the liquid to a boil, then cover the pan and reduce the heat to a simmer. Simmer until the ribs are tender (approx. 4 hours).
7
Remove the ribs from the braising liquid to rest. Pour the braising liquid through a strainer. Press the solids into the strainer to get them to release their liquid.
8
Simmer the braising liquid until it reduces by half its volume, skimming off any fat that comes to the surface.
9
Serve the lamb racks drizzled with the sauce.