Braised Lamb Shanks w/ Olives & Red Wine
Makes 3 Servings
WINE PAIRING
Brunello
Rich & fork-tender braised lamb shanks in a tomato, red wine sauce with a strong tangy olive flavor.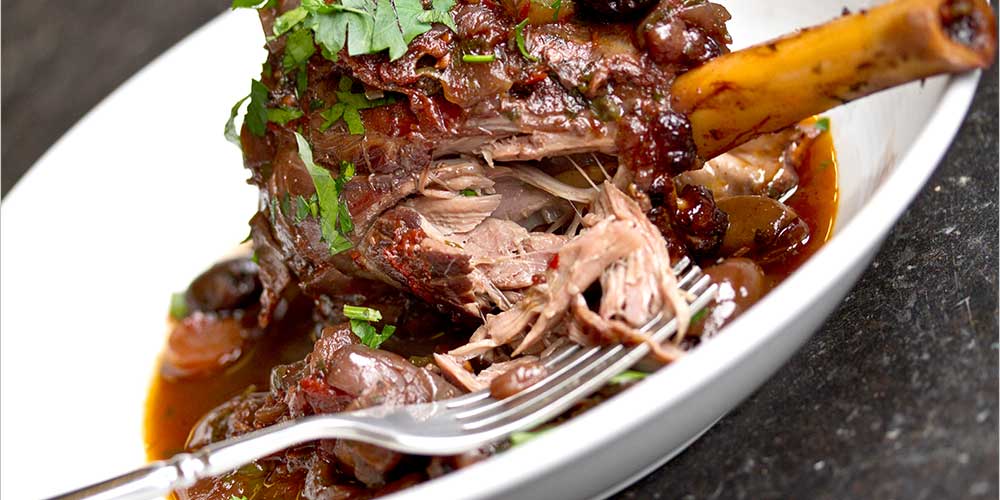 INGREDIENTS
High Heat Oil (grapeseed, high-heat canola oil, etc)

1 Onion, medium diced

2 Carrots, medium diced

2 Celery Stalks, medium diced

½ bottle Red Wine (we used a blend)

½ cup pitted Kalamata Olives

1 tbsp Capers, drained, rinsed and roughly chopped

14.5oz can Whole Tomatoes

2 cups Beef or Lamb Stock

1/3 cup finely minced Fresh Italian Parsley, plus extra for garnish

6 cloves of Garlic, minced

½ tsp Red Pepper Flakes

1 Bay Leaf

Salt & Pepper
DIRECTIONS
1
Preheat your oven to 300°F. Season the hindshanks liberally with salt and pepper.
2
Get a thin layer of oil hot in a Dutch oven or a deep, oven-safe pot over medium high heat. Sear the shanks in the oil on all sides to give them a brown crust.
3
Remove the shanks to a plate. Pour off most of the lamb fat, leaving about a tablespoon's worth in the pot.
4
Add the onion, celery and carrot to the pot with a pinch of salt. Saute the vegetables for 8-10 minutes over medium-high heat, until the onion & celery turn translucent. Add the minced garlic towards the end of the sauté.
5
Add the red wine. Bring the mixture to a simmer, and cook until the wine has reduced by half (about 10 minutes).
6
Put the shanks back in the pot along with any juices that have collected on the plate. Submerge them as much as possible in the wine and vegetable mixture. Add the kalamata olives, capers, tomatoes, red pepper flakes, bay leaf, parsley and beef/lamb stock.
7
Bring the liquid to a simmer, then cover the pot and move it to the oven to braise.
8
Braise until the meat is fork tender (approximately 3-3 ½ hours), then remove the shanks.
9
Move the pot to the stove top and simmer the braising liquid to reduce it.
10
Serve the shanks topped with some of the braising liquid and fresh parsley leaves.