Kurobuta Pork Belly w/ Pickled Cherries
Makes 6-8+ Servings
WINE PAIRING
Bandol Rose
Braised pork belly is incredibly delicious – a luxurious balance of tender meat and succulent fat – but it can be a bit over-rich.  Here we've balanced it with bright pickled cherries and a pork-fat, cherry vinegar vinaigrette.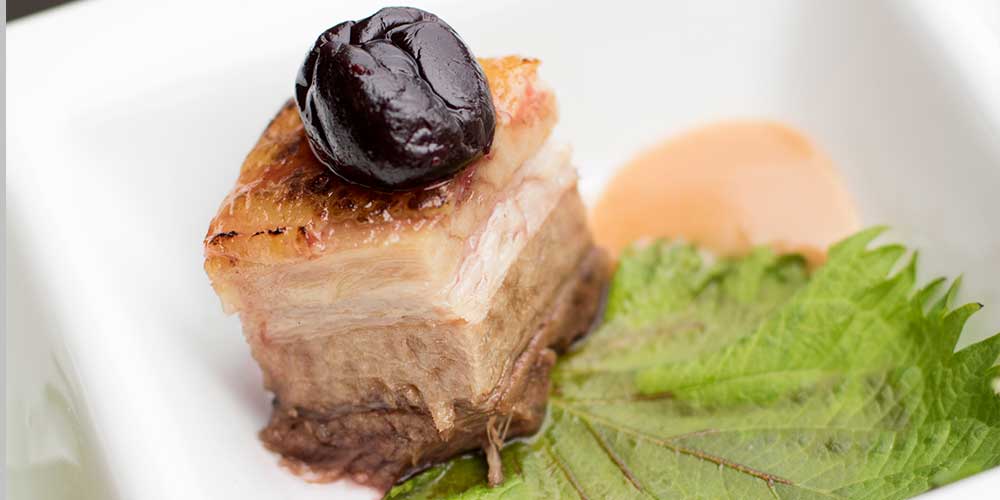 INGREDIENTS
1 ½ cup Chicken Stock

1 tsp Coriander Seed

1 stick Cinnamon
Pickled Cherries:

1 cup Frozen Sweet Cherries, thawed

Rice Wine Vinegar
Vinaigrette:

5 tbsp Cooking Liquid from pork belly, skimmed to get mostly fat

2 tbsp Pickling Liquid from the cherries
DIRECTIONS
1
Preheat your oven to 275°F.
2
Put the pork belly in a baking dish with the chicken stock, coriander, and cinnamon. Cover the dish with foil and put it in the oven to braise until tender (approx. 2 ½ hours).
3
When the pork belly is finished, remove it from the oven and make the vinaigrette by whisking together the ingredients.
4
Cut the pork belly into cubes and use a culinary torch on their tops to brown and partially render the fat.
5
Serve the pork belly cubes on top of shiso leaves, each topped with a pickled cherry and a little of the pickling liquid & drizzled with the vinaigrette