Boneless Grass-Fed Beef Short Ribs, Rustic Italian Style
Braised short ribs in the Italian style are surprisingly easy and a reliable crowd pleaser. If you can make pot roast you can braise short ribs! Here we've served them over a creamy polenta.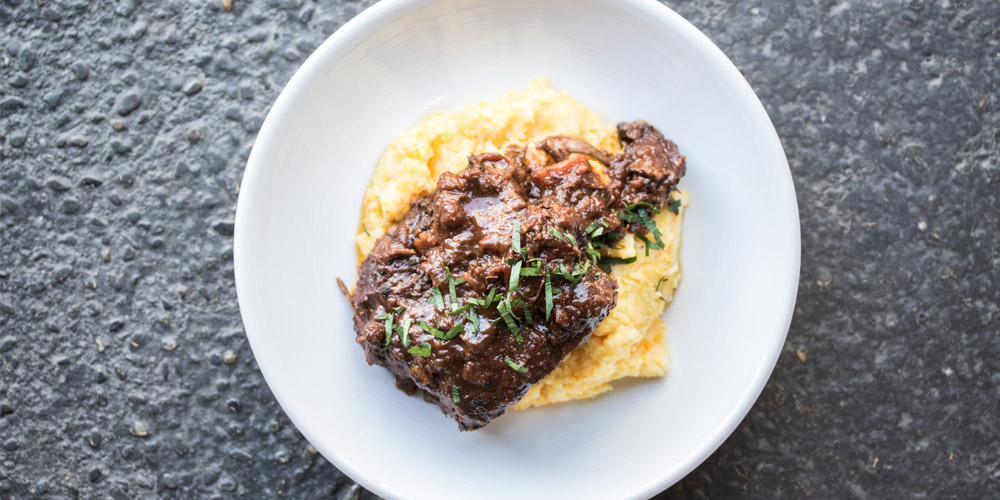 INGREDIENTS
Salt and Pepper

1 tbsp Neutral High Heat Oil
Braising Liquid:

1 Onion, Diced

2 Carrots, Diced

2 tbsp Umami Paste

6 cloves Garlic, Minced

2 cups Red Wine

2 cups Beef Stock (low sodium or homemade)

1 Bay leaf

2 sprigs fresh thyme

1 28-oz can Crushed San Marzano Tomatoes

1 tbsp Ground Allspice
Polenta:

6 cups Water

2 tsp Salt

2 cups Polenta

2 tbsp Unsalted Butter

¼ tsp Cracked Black Pepper
Optional: Italian Parsley to garnish
DIRECTIONS
2
Using paper towels, pat the short ribs as dry as possible. Season liberally on all sides with salt and pepper.
3
Heat the oil in a Dutch oven (or another deep, oven-safe pan) over medium-high heat. Sear the short ribs on all sides, until well browned, reducing the heat if the oil begins smoking. Set aside.
4
Add the diced onions and carrots and saute until the onions are softened and starting to brown. Add the umami paste and garlic, and stir constantly until the paste starts to brown and the garlic becomes aromatic.
5
Add the red wine and scrape the bottom of the pan with a spatula to free up the flavorful fond that's adhering there. Simmer until the wine reduces in volume by half, and then add the stock, bay leaf, thyme, tomatoes, and allspice. Add the short ribs, cover and bring to a simmer.
6
Transfer the covered pan into the oven, and cook for 1 1/2 hours. Uncover, and continue to cook, probably another hour, until the meat is fork tender.
7
Combine the salt and water in a sauce pot. Bring to a boil, then stir in the polenta.
8
Reduce the heat to medium. Continue to cook, stirring, for five minutes.
9
Cover the pot and remove it from the heat. Let it sit until it has thickened.
10
Stir in the butter and pepper. Taste & add additional salt/pepper as necessary.
Finish the Sauce & Serve:
11
Using tongs and a spatula, transfer the meat to a bowl and cover with foil.
12
Strain the cooking liquid through a strainer into a bowl and let stand until the fat begins to separate and rise to the top. Spoon off as much fat as possible, and return the remaining liquid to the stovetop, boiling it until it has reduced in volume to a saucy consistency.
13
Put a serving of polenta in each bowl, then top with big, tender chunks of the short rib. Pour over a generous spoonful or two of sauce. Garnish with Italian parsley, if desired.