Makes 6 Servings
WINE PAIRING
Barbera d'Alba or Cannonau from Sardinia
This is a rustic Italian peasant dish raised to new heights with the addition of white alba truffles. The braised beef is rich, the polenta creamy, and the earthiness of the parmigiano reggiano and truffles accentuate all the other flavors to make you feel as if you've been wrapped in a nice warm blanket. Better than your mother's pot roast, this is comfort food at its finest.
(yes, those are truffles sliced on top)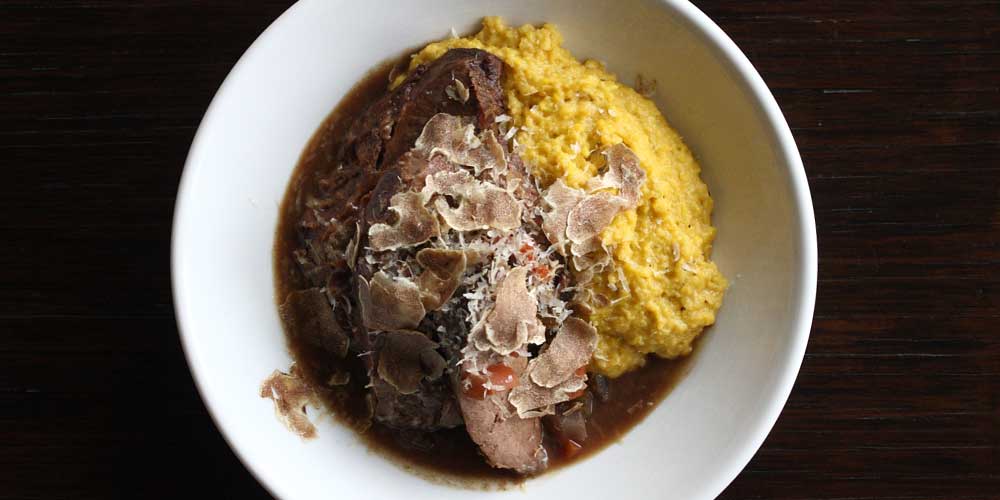 DIRECTIONS
1
Preheat your oven to 350 degrees.
2
Heat oil in a deep pot or Dutch oven. Rub the eye of round with salt and pepper.
3
Add the eye of round to the hot oil and sear it on all sides to develop a flavorful brown crust.
4
Remove the eye of round from the pot and reserve. Drain the excess oil and fat out of the pot.
5
Lightly brown the carrot, celery, and onion.
6
Deglaze the fond on the bottom of the pan with red wine, and simmer until you reduce the volume of the wine by half.
7
Return the eye of round to the pan. Add enough beef stock to come halfway up the side of the meat.
8
Cover the pan and move it to the oven to braise for 1 ½ hours.
9
In a separate pot, heat the chicken stock on the stove until boiling.
10
While stirring constantly, pour the polenta into the stock in a steady stream.
11
Turn the heat down to medium-low. Continue to stir until the polenta has thickened and cooked through (about 5 minutes). Turn the heat to low and stir in the goat cheese. Add pepper and salt to taste.
12
Slice the eye of round into ½" thick slices. Place the slices in a sauce pan or frying pan with some of the braising liquid. Bring to a simmer and reduce the liquid down to a glaze.
13
Plate the glazed slices of eye of round atop the finished polenta, grate on a small amount of parmigiano reggiano.
14
Just before serving, thinly shave on some truffles.