Pineapple Braised Wild Boar Sandwiches
Makes 8 Entree or 16 Appetizer Servings
Sandwiches stuffed with succulent slow-braised & shredded wild boar with complex fruity, tangy, earthy, umami flavor profile, paired with pineapple core and carrot pickles & cilantro.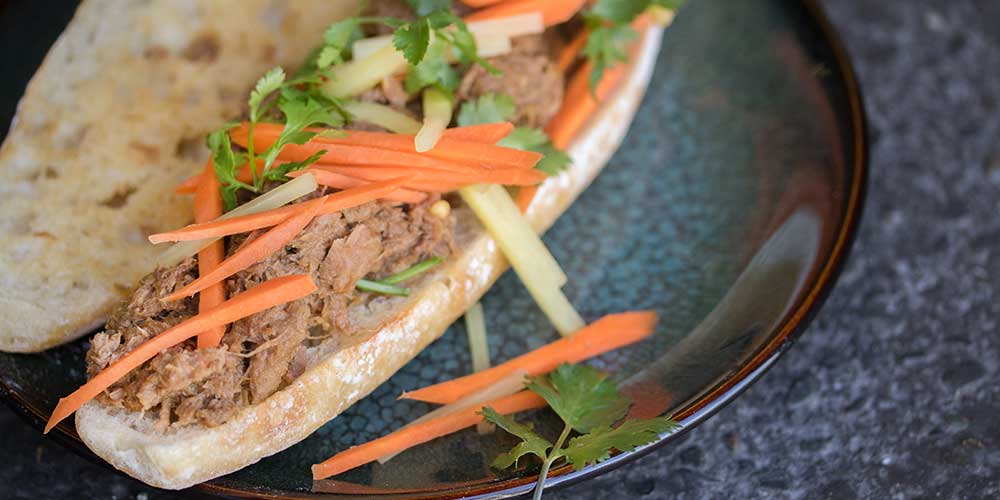 INGREDIENTS
3 whole Dried Aji Amarillo Chiles

2 tsp Coriander Seeds

1 small Yellow Onion, chopped into rough chunks

6 cloves Garlic

1 inch piece of Ginger, peeled & chopped into small chunks

1 whole Pineapple, core removed and reserved, fruit cut into chunks

3/4 cup Yuzu Juice

2 tbsp Tamari Soy Sauce

2 tbsp Brown Sugar or Piloncillo

1 tbsp Salt

1 tsp ground Black Pepper

1 tsp Aleppo Pepper

½ tsp Cayenne Pepper

Neutral High Heat Oil

32 ounce jar Pineapple Juice

Zest and juice of 1 Orange
Pickles:

Core from the Pineapple

1 cup Seasoned Rice Wine Vinegar

1 cup Champagne or White Wine Vinegar

1 cup Water

1 tbsp Sugar

1 piece Star Anise

2 Carrots, juilienned
Finishing:

Lemon Juice, to taste

2 Baguettes

Cilantro
DIRECTIONS
1
Preheat the oven to 300°F.
2
Break the Aji Amarillo chiles into 1 inch pieces and toast with the coriander seeds in a dry pan over high heat until both start to become aromatic. Set aside to cool for a moment, and then put into a clean and dry coffee or spice grinder with 1 tsp salt. Whir until you have a finely ground spice mix.
3
In a food processor, grind the onion until it's the consistency of a smooth salsa. Set aside.
4
In the same food processor bowl (no need to clean it), add the garlic cloves and ginger and pulse until they're minced. Add the pineapple chunks, the brown sugar/piloncillo, yuzu juice, and tamari. Pulse and grind until it's the consistency of a very chunky salsa.
5
Optional: If you're using a boneless leg or shoulder, cut it into 1.5 inch cubes.
6
Pat the cubed meat with paper towels to dry as much as possible, and season generously with salt and pepper.
7
You'll brown the meat in batches first. Heat a large oven-safe pan over medium-high heat, and add 1 tbsp of the oil. Add enough wild boar pieces to form a single layer – don't crowd, or they'll steam instead of browning.
Brown on all sides, flipping carefully with tongs, and then remove to a plate. Repeat in batches, using a new tbsp of oil each time, until all the meat is browned well. Set aside.
8
In the same pan, pour in the ground onion and the spice mix, stirring to evaporate some of the liquid in the onion, until it just starts to brown. Then pour in the pineapple mix, and again stir to evaporate some of the liquid and let it brown a bit.
9
Return the wild boar (and any accumulated juices) to the pan and stir well. Bring to a boil, cover, and transfer it into the oven to braise for 1.5 hours.
10
At that point, pour the jar of pineapple juice into a medium saucepan and boil until it's reduced in volume by half. Add it to the braising wild boar, along with the orange zest and juice. Remove the lid and continue to braise until the meat can be easily pulled apart into shreds with a fork.
11
Combine the vinegars and water in a small saucepan and bring to a boil over medium-high heat.
12
While the pickling liquid heats, julienne the reserved pineapple core into matchsticks, and place in a small heatproof container with the single piece of star anise. Julienne the carrots and place into a separate small heatproof container.
13
When the pickling liquid comes to a boil, carefully pour half of it over the pineapple core, and the other half over the carrots. Both should be submerged by the pickling liquid. Set aside to cool.
14
Once the wild boar is fork tender, carefully pull out chunks with tongs, shred them, and mix them back into the sauce they braised in.
If the sauce is still quite thin, boil over medium heat on the stovetop until reduced and thickened to a sloppy-joe-type consistency. Season to taste with salt, pepper, and a squeeze or two of lemon (or more yuzu juice), if desired.
15
Split the baguette in half and toast lightly.
16
To assemble the sandwiches, spread a generous serving of braised wild boar on a split-open length of baguette. Top with a generous line of pickled pineapple core and carrots, and pinches of cilantro. Chow down.