Bourbon Tiramisu with Orange Shards
Makes 8-10 Servings
WINE PAIRING
Banyuls
Make tiramisu with bourbon just once, and you'll find yourself wondering why anyone ever used any other alcohol. It's a marriage made in heaven.
For best flavor & consistency, make this tiramisu the day before you plan on serving it. A night resting in the fridge makes a huge difference. Trust us.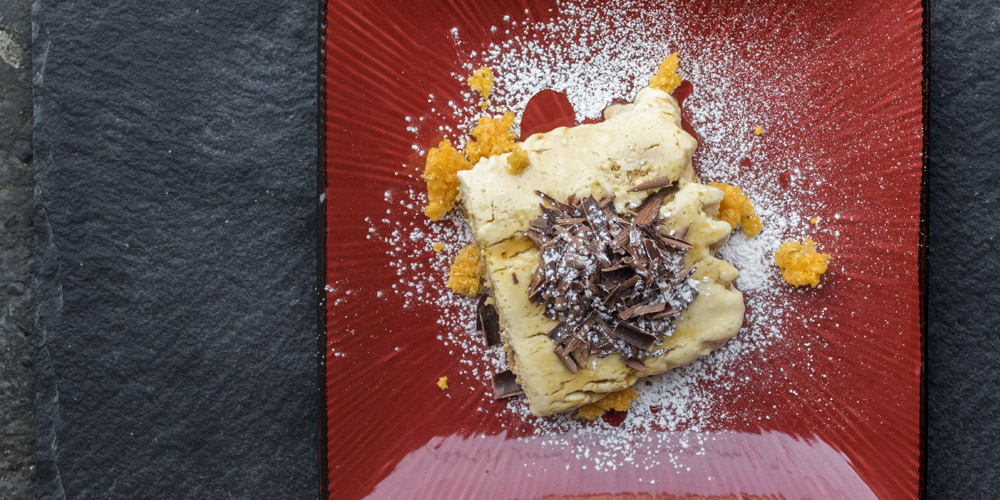 INGREDIENTS
6 Extra-Large Eggs, at room temperature

1/8 cup Granulated Sugar
1/4 cup Dave's Coffee Syrup

½ cup good Bourbon (we used Bulleit)

1 ½ cups Brewed Dark-Roasted Coffee, Chilled

16 ounces Mascarpone Cheese

40 Italian Ladyfinger Cookies
Garnish

70% Bittersweet Chocolate, shaved or grated

1 package (15g) Fresh As Mandarin Segments
DIRECTIONS
1
Carefully separate the eggs into yolks & whites. Store the whites in your fridge or freezer for later use in other recipes.
2
Put the egg yolks and granulated sugar in a mixing bowl and use a mixer with whisk/beater attachment(s) to whip them together on high speed until they thicken and become a lighter yellow in color (about 5 minutes).
3
Lower the mixer's speed to medium & add 1 tablespoon of the coffee syrup, half the bourbon, ¼ cup of the brewed coffee, and all the mascarpone. Mix until well incorporated & smooth.
4
In a separate bowl, combine the remaining bourbon and coffee, stirring briefly. One at a time, dip each ladyfinger in this mixture sideways, so that only the bottom half touches the liquid. You only need to hold the cookie in the liquid for about 3 seconds.
5
Immediately after dipping each cookie, move it to the baking dish. Build a single layer of cookies (about 20) that covers the entire bottom of the dish.
6
Once the dish contains a single layer of cookies, spread half of the egg mixture across it.
7
Continue dipping & placing the remaining 20 ladyfingers, using them to build a second layer in the baking dish.
8
Pour the rest of the espresso-mascarpone-egg mixture over the top of the cookies, using a spatula to gently spread it across the top evenly.
9
Cover the dish & move it to the refrigerator to rest overnight.
10
Just before serving, top the tiramisu with the chocolate shavings & orange shards. Serve!