Blue Cheese Bread Pudding
Makes 4 Side or 8 Appetizer Servings
Not all bread puddings are for dessert. This rich, savory, intensely blue-cheesy bread pudding can be served as part of a hearty breakfast, as a snack, as an appetizer, or as a side dish. If you love blue cheese, you'll love this recipe!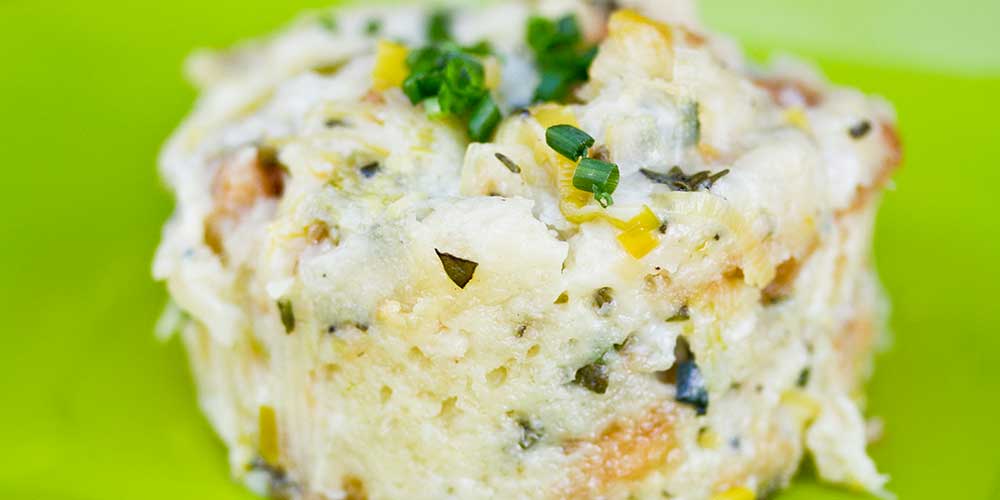 INGREDIENTS
1 Leek

5 tbsp Unsalted Butter, plus extra for buttering baking dish

2 cups & 2 tbsp Heavy Cream

1 Bay Leaf

1/2lb Maytag Blue Cheese (could substitute other blue cheese)

1 loaf Brioche or Challah Bread, top crust removed

2 tsp chopped Fresh Rosemary

1 tsp chopped Fresh Thyme

1 tsp Lemon Zest, microplaned or very finely chopped

1 Whole Egg

2 Egg Yolks

Salt & Pepper
Optional Garnish:

Additional Fresh Chives

Extra Virgin Olive Oil

Additional Blue Cheese, finely crumbled
DIRECTIONS
1
Preheat your oven to 350 degrees.
2
Cut the leek in half down the middle and rinse out the interior. Thinly slice the leek. Add it to a frying pan with 4tbsp of the butter and a little salt. Cook over medium low heat until softened.
3
Add 1 cup of the heavy cream & the bay leaf. Reduce the heat to low &
simmer
for ten minutes to infuse the leek flavor into the cream.
4
Remove the cream from the heat, remove the bay leaf and immediately crumble in 1/4lb of the blue cheese. Once the cheese has melted, stir to combine.
5
Cut the bread into 1 inch cubes & then gently crumble further. Crumble the remaining 1/4lb of blue cheese into the bread in a large bowl. Add the chopped rosemary, thyme, chives and lemon zest. Gently mix with your fingers.
6
To the warm cream mixture add the egg, egg yolks and additional cup of cream. Stir to break the yolks and mix completely.
7
Add the cream base to the bread and gently fold. Add pepper.
8
Rub an 8×8 baking dish with butter.
9
Optional: If you want to unmold the pudding whole later, line the buttered dish with parchment paper.
10
Gently pack the pudding into the dish. Drizzle it with the remaining 2 tbsp of cream. Cut the remaining tablespoon of butter into small pieces and distribute them across the surface of the pudding. Season with salt.
11
Optional: Set the baking dish in a second baking (larger) baking dish filled with hot water to ensure more even cooking.
12
Bake for 30-45 minutes until set and the top is golden brown.
13
Garnish with extra virgin olive oil, chives, and additional blue cheese if desired. Serve.