Blood Orange & Microgreen Salad
Makes 4 Servings
WINE PAIRING
Albarino
Bright, briny, nutty and herby, this salad is the perfect way to start a light meal or balance a heavier one.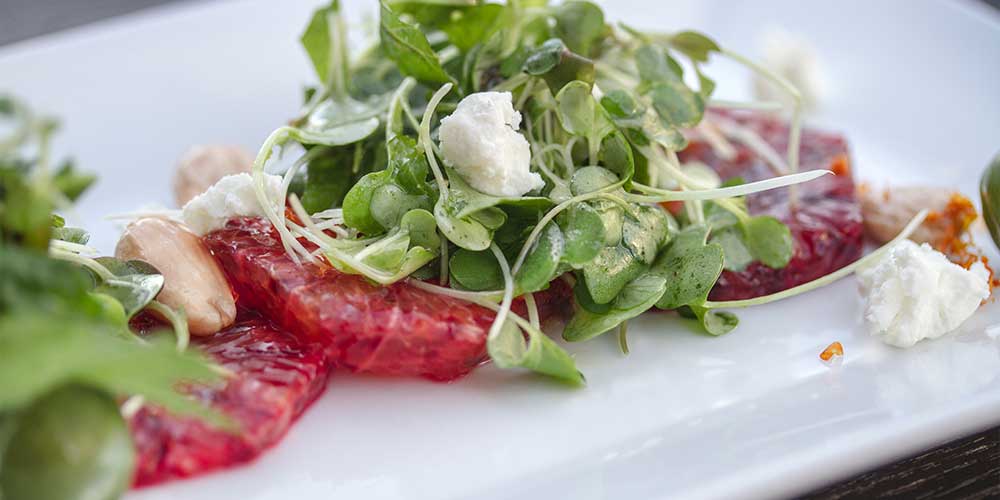 INGREDIENTS
¼ cup Salted & Fried Marcona Almonds

½ cup Castelvetrano Olives

¼ cup Mint Leaves

2 cups Microgreen Blend

Zest of 1 Orange

1 oz Israeli or French Feta Cheese
Vinaigrette:

3 tbsp Extra Virgin Olive Oil

1 tbsp Champagne Vinegar

¼ tsp Alaska Flake Smoked Sea Salt


Additional Extra Virgin Olive Oil

Additional Alaska Flake Smoked Sea Salt
DIRECTIONS
1
Remove the peel and outer membrane from the blood oranges, then cut them into 12 thick slices.
2
Lay four blood orange slices across each plate.
3
Top them with marcona almonds & arrange several olives across the plate.
5
Mix together the mint leaves and microgreens. Drizzle the vinaigrette over them.
6
Drizzle a little extra EVOO over the oranges & sprinkle them with a little extra smoked salt.
7
Top the oranges with the microgreen & mint salad. Serve.