Heirloom Potato Gratin with Fresh Black Truffles
Everybody loves potatoes au gratin.  Take it to stratospheric heights by adding shaved fresh black truffles.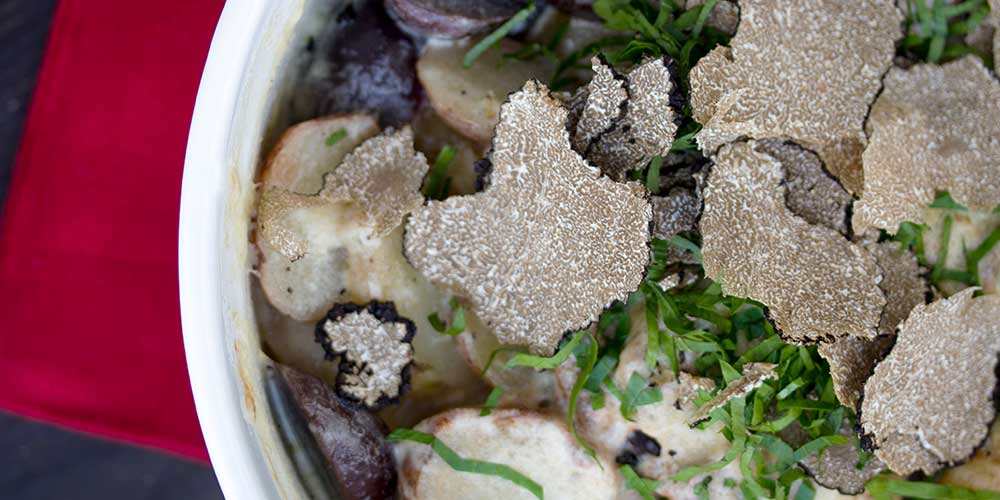 INGREDIENTS
Small ramekins for individual servings or 1 large ramekin for family-style service
DIRECTIONS
1
Preheat your oven to 350˚F.
2
Cut the potatoes into ¼" slices (lengthwise).  If you've got multiple colors of potatoes, put some of each color in each ramekin.
3
Once you've built a layer (layers) 3-slices thick, top with 1/4 tsp black pepper, ¼ tsp chopped garlic & 1 tsp salt (in total, distributed across all ramekins if doing individual servings).
4
Build another layer on top of the seasonings, season again with the same amount of salt, pepper and garlic.
5
Pour the cream in a pot and heat it, stirring occasionally, until it comes to a boil.
6
Put the ramekin(s) on a baking sheet.  Pour in the cream, just until it comes almost to the top of the potatoes.
7
Move the baking sheet to the oven and
bake
until the potatoes are tender (about 30 minutes).
8
Remove the gratin from the oven and shave black truffle over the top.  Sprinkle on truffle oil and/or parsley if desired. Serve.