Black Garlic & Black Trumpet Mushroom Steak Butter
Makes 8-12 coins / servings
Earthy, savory, sweet, umami butter for adding richness and flavor to steaks (especially grilled ones).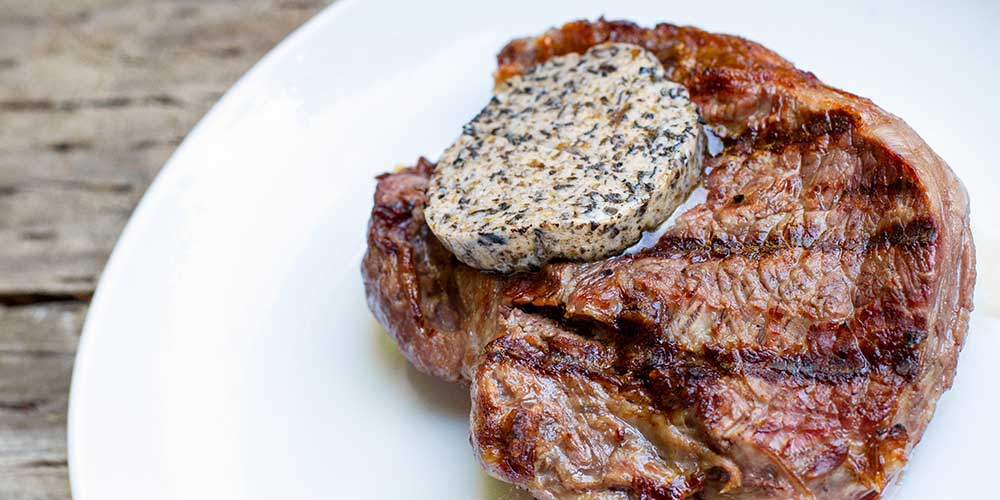 DIRECTIONS
1
Let the butter sit at room temperature until it's very soft and spreadable.
2
Cover the black trumpet mushrooms with hot water and leave at least 10 minutes to rehydrate. Pick the mushrooms up out of the water, in order to leave behind any sediment. Squeeze to remove as much moisture as possible.
3
In a small saucepan pan over medium-high heat, saute the minced shallots in olive oil until transparent but not yet brown. Raise the heat to high and add the black trumpet mushrooms. Let them caramelize until they become aromatic and no longer release moisture. Add the black garlic and saute briefly, then transfer this mixture to the bowl of a food processor.
4
Blend until just pureed, and then combine with the room temperature butter in a small bowl. Mix until well incorporated. Add the Worcestershire and season with salt and pepper. Spoon onto a square of plastic wrap, and form into a tight log shape, and chill until firm, at least 30 minutes. Slice into thick coins and serve on grilled steak.