Escargot with Black Garlic and Smoked Tomato Butter
Makes 4 Appetizer Servings
WINE PAIRING
Blanc de Blanc Champagne
Want something a little different than classic escargot with butter, garlic & parsley? Try this more complex recipe featuring sweet, umami-packed black garlic, lemon & sherry vinegar, and an amazing compound butter made with cold-smoked tomatoes.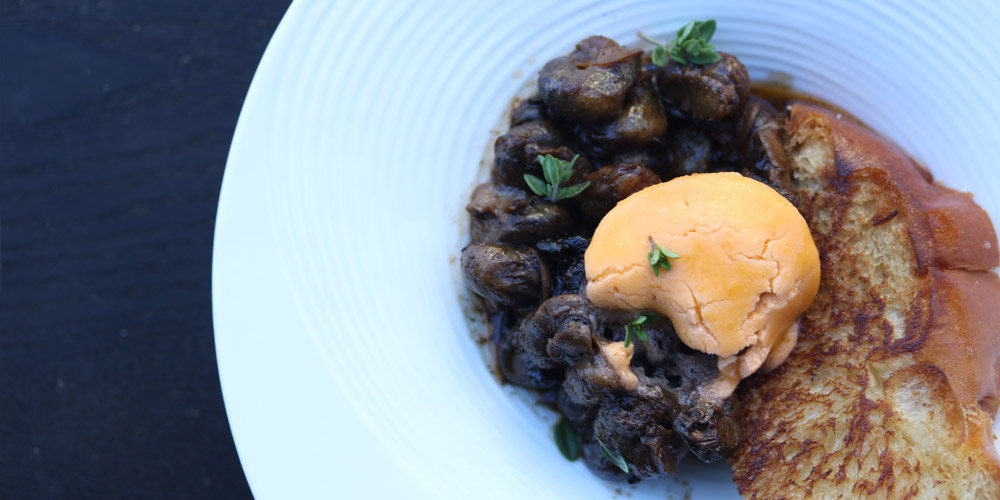 INGREDIENTS
1 tbsp minced Black Garlic

½ tsp Lemon Juice

½ tsp Sherry Vinegar (we used Gran Reserva)

½ tsp Salt

Buttered & Toasted Slices of Challah or Brioche

Fresh Thyme Leaves
Smoked Tomato Butter

3 Roma Tomatoes

1 cup Alder or Mesquite Wood Chips, soaked in water

1lb Unsalted Butter, softened

2 tsp Smoked Sea Salt
DIRECTIONS
1
Cut a small X into each tomato's skin on one end (this will make them easier to peel later).
2
Put the tomatoes in a steamer rack or other similar device to elevate them.
3
Put a layer of foil in a small (metal) baking pan (steam table pans from a restaurant supply store work well). Put the wood chips on the foil and the basket of tomatoes on top.
4
Put the pan on the stove over medium heat. Use a culinary torch to light the wood chips & immediately cover the top of the pan tightly with foil.
5
Smoke the tomatoes for 20 minutes – peek under the foil periodically & re-light the wood chips if necessary.
6
Remove the tomatoes from the pan. Let them cool, then peel off the skin & core/de-seed them.
7
Blend the tomatoes in a food processor with the butter and smoked salt to taste (we used 2 tsp) until a smooth paste forms.
8
Use a spatula to scoop the butter out of the machine & put it in the center of a sheet of plastic wrap, wax paper or parchment paper. Roll the paper/wrap into a tube shape, pressing the butter out to the sides so it forms a cylinder. Crimp or twist the sides of the wrapper to close them, and move the butter to your fridge or freezer to harden enough to slice.
9
Just before serving, melt 2 tablespoons of the tomato butter in a wide skillet, then add the black garlic.
10
Toss the butter with the garlic as it melts (it will darken considerably from the garlic).
11
Add the escargot & toss it in the butter mixture, continuing to cook just until the snails are heated through.
12
Stir in the lemon juice, sherry vinegar & salt.
13
Serve the snails immediately with the toast, topped with a thin pat of additional tomato butter & sprinkled with thyme leaves.