Berkshire Pork Tenderloin with Caramelized Pear, Chanterelles & Pear Cider Sauce
Makes 2 Servings
WINE PAIRING
California Pinot Noir
Pork, root vegetables & apples are a classic combo. Here we've put a little different spin on it with caramelized fresh pear & a pear hard cider sauce.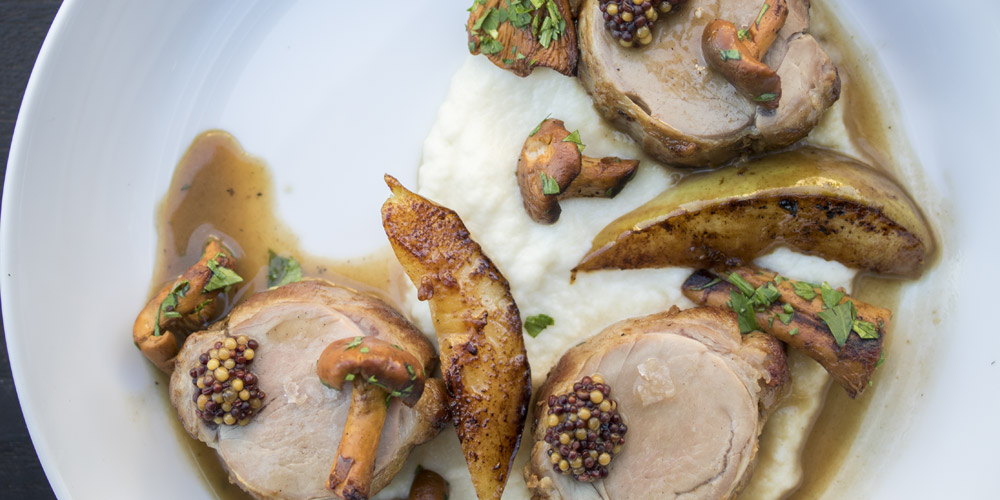 INGREDIENTS
Cider Sauce:
2 cup Hard Pear Cider
1 cup Chicken Stock/Broth (lowest salt possible)
3 tbsp Unsalted Butter
Celery Root Puree:
1 Celery Root, peeled
¼ cup Half & Half
DIRECTIONS
1
Cut the peeled celery root into large chunks. Put the pieces in a large pot with lightly salted water & simmer them until they're very tender, but not falling apart.
2
Drain the water off of the celery root, reserving 1/3 cup of it.
3
Put the celery root in a blender or food processor along with the half & half. Add enough of the reserved water (1/4 to 1/3 cup) to give the machine enough liquid to work & to achieve the right consistency. Blend it to a smooth puree.
4
Taste & add salt to the puree as necessary.
5
Tie the tenderloin with twine to bind the thin tail to the thicker part of the body (so it is an even thickness throughout & cooks more evenly).
6
Clean the mushrooms of any surface dirt, cut off the very bottom of their stems, and tear them into bite-sized pieces.
7
Season the tenderloin with salt and sear it in a hot, well-oiled pan, turning as necessary, until cooked through.
8
At the same time, sear the pear quarters, turning as necessary, until they are well browned & softened.
9
When the pork and pears are cooked the way you like them, remove them from the pan to a clean plate to rest.
10
Add the chanterelles and a ½ tsp of salt to the pan. Sear the chanterelles over high heat, moving them only once each side is well browned.
11
When the chanterelles have cooked, remove them from the pan & toss them with the parsley.
12
Deglaze the pan with the hard cider and chicken stock. Bring the liquid to a simmer and cook until it has reduced in volume by three-quarters.
13
If necessary, gently re-warm the celery root puree in a frying pan on the stove.
14
Add any juices from the pork resting plate to the sauce. Stir in the butter until it has completely melted.
15
Cut the butcher's twine off of the pork tenderloin & slice it into medallions.
16
Serve the pork medallions on some of the celery root puree, sprinkled with chanterelles and drizzled with the finished sauce.