This recipe was developed by our awesome customer Blake Skinner. A true kitchen chemist, he used weights for all quantities; we've just adapted a couple of measurements for home cooks. Otherwise, it was perfect. This is a hearty and satisfying entrée dish to cozy up with.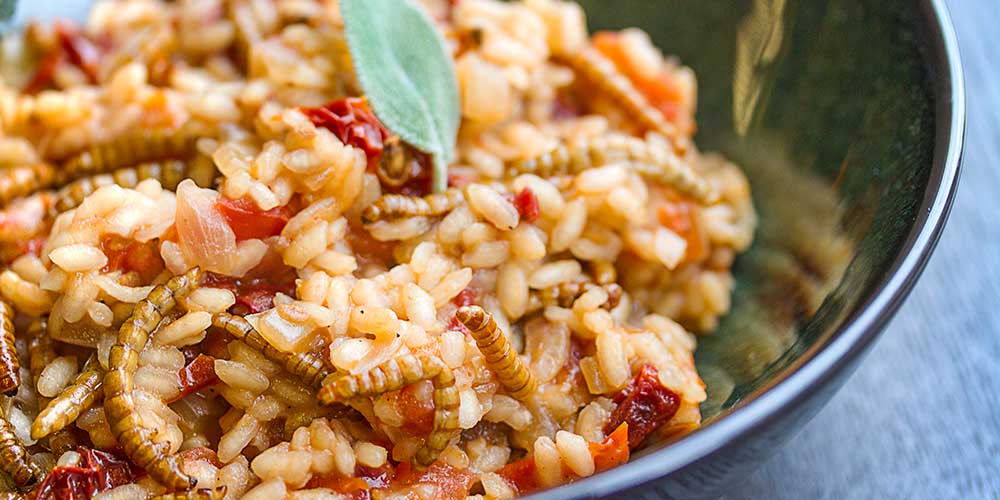 INGREDIENTS
3-4 cups Vegetable Broth

1/2 cup Sundried Tomatoes

2 Plum Tomatoes

1/2 medium Sweet Onion, small diced

1-1/4 cups Carnaroli or Arborio Rice

2 cloves Garlic

1 Tbsp Butter

3 Tbsp Olive Oil

6 ounces White Wine

Scant 1 cup of Beetle Larvae

1/3 cup finely-shredded Parmesan Cheese
DIRECTIONS
1
Saute onions at medium-low heat until partially transparent.
2
Add the garlic, and saute until the onions are fully transparent.
3
Add the rice, and stir to coat. Cook until you catch the scent of roasted rice.
4
Crumble the beetle larvae and add them to the pan. Then add the wine, and cook until the pan is nearly dry.
5
Add the tomatoes, basil, parmesan cheese, and a couple good pinches of salt and pepper.
6
Add 1 cup vegetable broth, and cook, stirring occasionally, until the pan is nearly dry. Add another cup of broth, and repeat. Add a third cup when the pan is nearly dry again.
7
Once that cooks down, taste a spoonful of the rice. Is it the consistency you want? For risotto, you'll typically be looking for a soft and creamy texture, with a bit of firmess in the center of each grain of rice, but no grainy hard center that sticks in your teeth. If it hasn't softened enough, and 1/2 to 1 cup more broth, and then try again once it's cooked down.
8
Once you reach the desired consistency, add a tablespoon of butter, remove from heat, and stir until combined. Serve.