WINE PAIRING
California Cabernet Sauvignon
This braising liquid accentuates lamb's natural earthiness – bitter yet creamy stout, earthy chilies, honey for sweetness, and just the right amount of cream.
If you'd like, the shanks can be braised a day ahead (and will be even better if you do so), then chilled overnight & reheated in time for your dinner.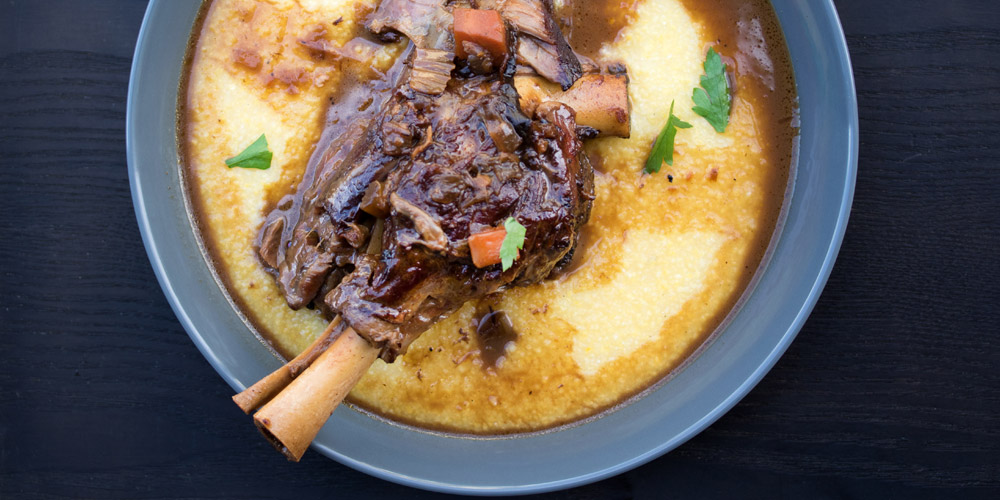 INGREDIENTS
4 Lamb Shanks (preferably Hindshanks)

1 tsp Salt

½ tsp Ground Black Pepper

1 tbsp Oil

1/2 Onion, medium diced

1 Celery Stalk, medium diced

1 Small Carrot, medium diced

4 cloves of Garlic, peeled & smashed

1 tsp Juniper Berries, roughly chopped

2 Bay Leaves

1 tsp Dijon Mustard

1 tbsp Tomato Paste

1 pint Stout Beer

1 heaping tbsp Honey

1 quart Low Sodium Beef Stock

¼ cup of Heavy Cream
DIRECTIONS
1
Preheat your oven to 300F.
2
Season the lamb shanks with the salt & pepper, then sear them on all sides in a hot, oiled frying pan or cast iron skillet.
3
Once the surface of the shanks has browned, move them to a deep stock pot.
4
Add the onion, celery, juniper berries, bay leaves, crushed garlic & carrot to the pan where you seared the shanks. Saute them in the residual lamb fat for ten minutes.
5
Add the pasilla negro chilies, Dijon mustard, and tomato paste. Saute for an additional 2 minutes.
6
Deglaze the pan with the stout beer, scraping the bottom to collect any browned bits.
7
Pour the stout mixture from the pan into the stock pot with the shanks. Stir in the honey and beef stock.
8
Put the stock pot on the stove & bring the liquid to a boil.
9
Move the pot to the oven (uncovered) and braise until the lamb shanks are tender (3-4 hours).
10
Optional: Remove the shanks from the braising liquid. Store them and the liquid in your fridge overnight for serving the next day.
11
Skim the fat off the surface of the braising liquid. Remove & discard the bay leaves & pasilla negro chilies.
12
Stir the heavy cream into the braising liquid. Optional: If you took the shanks out of the liquid for overnight storage, return them to the liquid.
13
Reheat the shanks & liquid on the stove until quite hot.
14
Serve the shanks with you choice of starch (we recommend polenta), drizzled with the braising liquid as a sauce.